This guide was put together and combined essential factors and things to watch out for when buying new TVs to aid you in your quest of finding the perfect new TV. This article will also focus on popular brands and current models as of spring 2021, along with all the standard TV features to look out for your budget.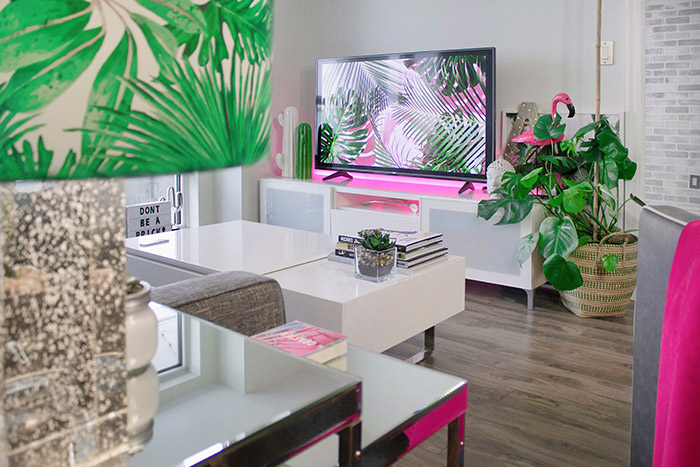 In the world of TV shopping, you would have come across many terms such as 4k, LED, OLED, smart TV, resolution, etc. All those long specifications lists would have confused any new TV buyer. This article aims to simplify and categorize to help you differentiate TVs from one another and thus buy the best New TV for your budget.
TV Screen size: is the Bigger the Better?
Yes, in the case of TV screens, Bigger is really better, if you have the room for it. With the fast-paced development of TV-technology, the extra space required for a TV is reducing tremendously. Remember some 10-20 years back, a 42-inches TV can be as big as a cupboard, now it's just as sleek as an oil canvas.
Thus, except if you want a new TV for small areas like the kitchen, small bedroom, etc., it's always better to go for the biggest screen size you can afford.
Now, if you have an old entertainment center, be sure to measure and leave at least an inch from both sides and top/bottom of the TV cavity. Or, if the space is too small for your desired TV screen, consider removing the bounding box since most modern TV can be wall-mounted or stand directly on the shelve. Follow this page for a more detailed guide on recommending TV screen size based on viewing distance.
Resolution: 4K, 8K, and HD definition
At this point, most new TVs you'll find on the market are 4K; they replaced the basic HDTVs and brought even more lifelike pictures.
You might have heard of terms like Ultra HD, 4K, or 8K, etc. They all refer to the screen resolution or, simply put, the number of pixels or dots on the screen that can change colors to display any picture. The more dots or pixels, the sharper and more realistic the image can be.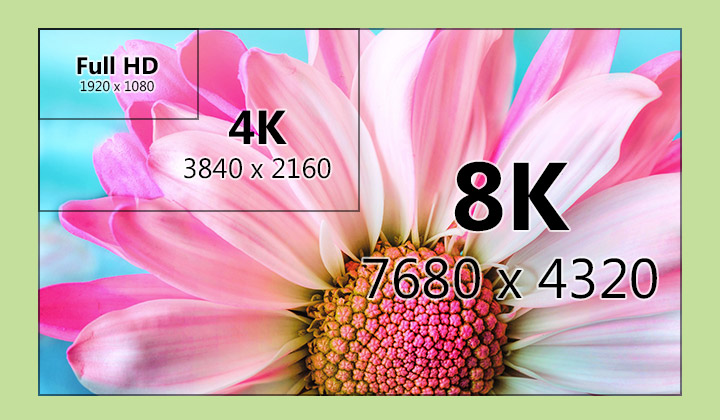 This doesn't mean that a higher resolution TV will display better pictures. Many other factors constitute the overall quality, such as screen types, HDR capability, rendering processor, brightness, contrast ratio… Still, if budget is not a significant concern and you genuinely want the best viewing experience, it's worth considering between the 4K or 8K resolution TV.
Common Screen resolutions & Names
| | | | |
| --- | --- | --- | --- |
| Resolution | W x H (pixels) | Other Names | Approx. total pixels |
| 720p | 1280 x 720 | HD, High Definition, HDTV | ~ 921k or 1 million |
| 1080p | 1920 x 1080 | Full HD, FHD, 1080 HD | ~ 2 million |
| 4k | 3840 x 2160 | UHD, Ultra HD, Ultra-High Definition | ~ 8 million |
| 8k | 7680 x 4320 | 8k UHD | ~ 33 million |
It's also worth noting that most newer 4k TV will have some built-in feature to upscale predecessor content. For instance, on a good 4k TV, 1080 & older DVDs will look better, the same thing for other digital content as well.
TV screen type: OLED vs. QLED & LCD TV
Since Plasma TV has been stopped in production, most of the new TVs on the market are either LCD or OLED. Then there is QLED, LED-LCD, etc., so what is the difference between them? Which will give better picture quality and viewing experience?
To differentiate, we have to look at how they work. LCD TVs or LED-LCD TVs typically have a backlight lamp to light through the liquid crystals to create different colors. Because of this, LCD or LED-LCD TVs still have a bump of some sort in the back where the lamp is; hence they're still bulkier than OLED TV, though not as big as what we have years ago on CRT TVs.
On the other hand, OLED TVs don't have a backlight but rather an organic or Carbon-based film between two conductors emitted by themselves when an electric current passes through. This gives OLED TVs the ability to have the darkest or so call true black, and hence infinite or highest Contrast ratio among all screen types. It's safe to say that OLED TVs are the best when viewing inside a darker or dimmed room. Since no lamp is needed, OLED TVs usually are very thin, some even thinner than a wall canvas (see LG Gallery models)
QLED TVs, though they sound and look similar to OLED TVs, they're not the same. QLED TVs are the makeover of LED-LCD TVs, in that they still need a backlight to shine through liquid crystals, but this time, with an extra Quantum dot filter to achieve better brightness and a higher range of colors switching.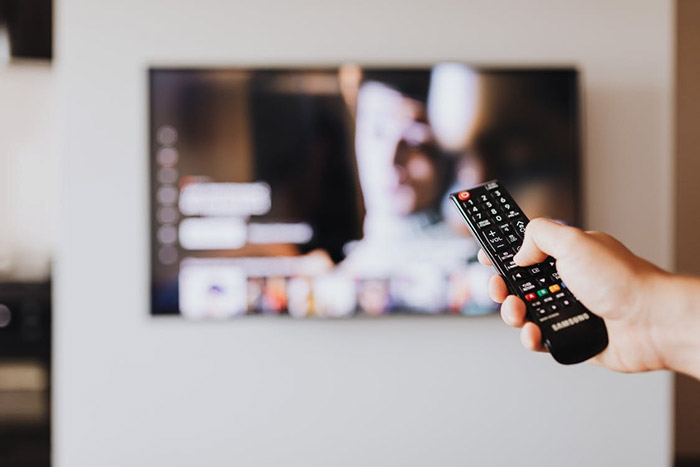 If you have to decide between OLED and QLED, both have their pros and cons, but overall, OLED tends to give better picture quality at a higher cost. Though under specific environments like light-filled rooms and outdoor, QLED TVs with anti-glare/matte finish might perform better due to their superior brightness.
LG, Sony, Panasonic, Phillips, Loewe… are the leading manufacturers for OLED TVs from LG's OLED board, while Samsung, Hisense, and TCL are on the QLED.
OLED vs. LED & QLED summary
| | | | |
| --- | --- | --- | --- |
| | OLED TVs | LED TVs | QLED TVs |
| Contrast Ratio | Infinity to 1 due to the true darkest black | Depend on models | Depend on models |
| Brightness | Up to 1000 nits | Up to 2000 nits | Up to 4000 nits |
| Color Gamut | Improving close to cinematic quality on newer 4k models | Improving close to cinematic quality on newer 4k models | Best in maintaining color accuracy when displaying in bright pictures |
| Viewing Angle | Off-axis viewing with vivid colors and picture contrast even for side-viewers | Direct – straight in front only, side viewers might suffer distortion of colors | Fix some distorting and washed-out problem of typical LED TVs |
| Size and weight | Lighter and thinner | Slightly bulkier than OLED due to the backlight | Slightly bulkier than OLED due to the backlight |
| Refresh rate | Fastest at 0.001ms | VRR | Variable Refresh Rate |
| Resolution | 4k and 8k | 1080 HD, 4k, 8k | 4k and 8k |
| Durability | Up to 100000hrs lifespan, though there's burn-in issue to watch for | Reliable, issue-free for long times. | Expected to be 7-10 years |
| Screen sizes availability | Limited – available in 48″, 55″, 65″, 77″ and 88″ | Widest, available from 19″ to 88″ | Lots varied from 43″ to 98″ |
| Cost | About twice as much as QLED on the cheapest models | Cheapest models can price as low as $100+ | $500+ |
Other features to consider when buying a new TV
HDR
HDR or High Dynamic Range help expanded the TVs' brightness and color palette, making the pictures look more realistic and exciting. A TV with HDR-capable is therefore essential to play HDR content. Nowadays, you can find HDR content on almost any popular streaming services, so does HDR – it's available practically on every 4k and up TV.
This doesn't mean that all HDR TVs are the same; some mid to high-end HDR TV can display the video as near as the director intends to like a cinematic experience. Those low-end HDR TVs sometimes can look worst than those without HDR. Thus, HDR-capability remains an excellent option to have if you're buying a large TV on the mid-range and up, but not necessarily the most crucial feature as much as contrast ratio and color accuracy, the two attributes to best picture quality.
Processor
Modern TVs come with processors that handle flashing images onto the screen, reduce blurring/grain/noise, enhance texture, recreating colors, etc. Typically, if you're watching fast-paced content like sports, action movies, and so on, then a powerful TV processor would help deliver the overall smooth viewing experience by improving picture quality.
Smart TV
Most mid-range TVs will often come with the smart option; this allows your TV to access apps and content via your home internet. This feature is more convenient since you can quickly access many streaming services or even browse the web via a built-in browser.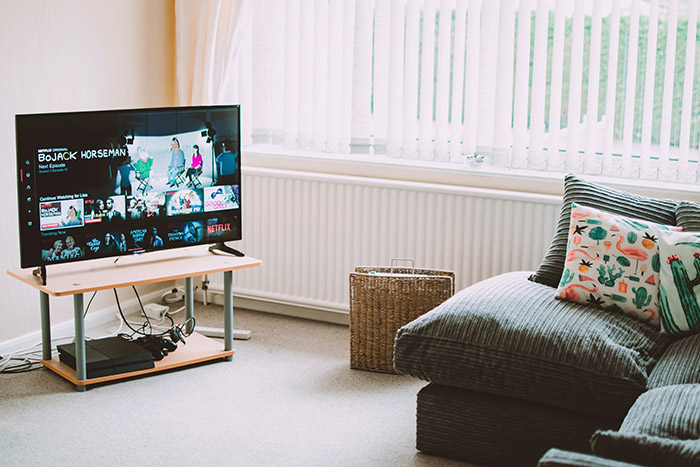 Still, if you get a small TV without smart-capability, there are other devices out there to convert your TV into a smart device as well. So consider this as a plus rather than a necessity to the overall viewing experience.
Connectivity
It's always wise to proof your TV for future enjoyment by making sure it has all the possible connecting ports such as HDMI, USB, or even Bluetooth in addition to the usual composite or VGA port. Some TV might have their ports on the sides of the bottom, so depending on your need, one might fit better.
The Verdict
There're many more features on the specifications list, but above are all you should focus on along with your budget. To sum up, here're some recommendation to look for when buying a new TV:
Determine your budget: It would help to think of how long you would keep your TV for; for example: if you will be getting one in the next year or so, go with the lower bound of your allowance. However, if this will be your main TV that will be sitting as the leading centerpiece in yr living for five years, put some investment in it.
Pick the right size of a TV, remember, bigger is better, as long as the TV will fit in your designated area, go for the bigger one.
Picture quality: for a TV, displaying quality is always the most important. Whether you're going for LED, OLED, or QLED, pay attention to the brightness, contrast ratio, and of course, the resolution. On a lower-end LCD TV, you might consider a picture calibration to help to improve the quality.
HDR, powerful video processor, HDMI connectivity… should be considered next, but again, not as important as above.