TVs come in all different sizes, but there are some TV screen sizes that are more common than others. When shopping for a TV, you may see a lot more options in these sizes. These TV screen sizes range from the moderate to the extremely large. Which size you choose will depend on your budget, your room, and your personal preference for TV size.
First, it's important to know how TV screen size is measured. The advertised screen size of a TV is the length of the TV measured diagonally. This means a 32 inch TV is actually 27.9 inches in width and 15.7 inches in height, making the screen a total of 439.6 square inches.
Additionally, remember that a flat screen HDTV has more actual viewing room than older TVs. That's because flat screen TVs today are shaped differently than old TVs. Today's TVs are longer, creating a more rectangular shape. Older TVs, on the other hand, were closer to a perfect square, with the width and height being almost the same.
Now, let's examine some of the most common and popular TV screen sizes for today's modern flat screen HDTVs.
24 inches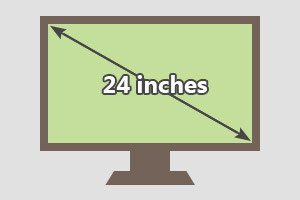 24 inches is one of the smallest sizes available for a TV. The main advantage to this small TV size is that they're extremely inexpensive. Even a nice LED TV will often cost under $150 if it's only 24 inches.
A 24 inch TV can be great as a second TV in another room, such as a kitchen. Though you won't be able to watch a 24 inch TV from far away, it's an inexpensive option and doesn't take up much space.
28 inches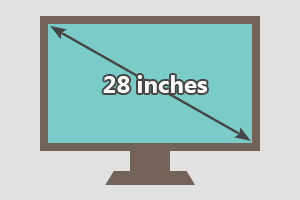 The next common size up from 24 inches is the 28 inch TV screen. A 28 inch TV screen is better suited for a living room as a primary TV than something smaller. It can be seen from a slightly farther distance and provides a better picture quality.
28 inches is a great size for an extra TV in a bedroom, too. It's big enough to enjoy watching movies or high definition TV shows, but it's not so big that it becomes the focal point of the room.
32 inches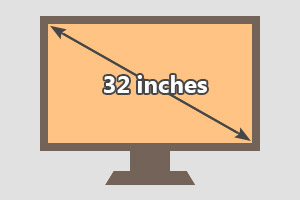 A 32 inch TV is a decent sized TV for a small living room. While many people prefer larger TV screens, a 32 inch TV is big enough to watch from a distance of a few feet. It's an ideal size for a small space, such as a studio apartment or a dorm room where you plan to sit close to the TV.
Remember, your TV can be a focal point in your living room, and it's something guests will be looking at often. Choosing the right TV stand can tie your whole room together and make a modern electronic appliance look right at home in any room.
42 inches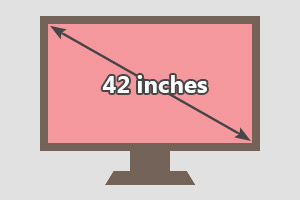 42 inches is a popular in-between size for TV screens. It's not quite big enough for most living rooms, but a 42 inch TV may be too expensive or too large for other rooms. With a 42 inch TV screen, you can sit a comfortable distance from your TV set and still easily see every detail.
Those who want a slightly larger TV but don't want to spend the money on a really big TV might enjoy a 42 inch TV. It's just big enough to enjoy, but not so big it will break the bank to buy one.
48 inches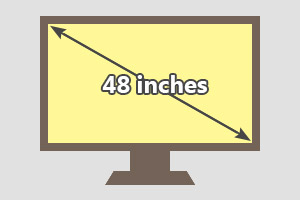 48 inches is one of the most popular sizes for a TV screen. There are tons of options to choose from when shopping for a 48 inch TV. You can find plenty of high quality LED TVs and even Smart TVs in the 48 inch size.
Plus, 48 inches is an excellent size for a TV screen in any living room. It's big enough to sit across the room and still see every detail on an HDTV screen, but it should still fit in just about any living room without taking up too much space.
60+ inches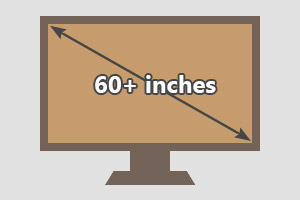 There are plenty of TVs to choose from that are 60 inches or even bigger. Most people simply don't need a TV that's more than 60 inches, however. A 60 inch TV screen is easy to watch even from across a long room and most provide excellent picture quality.
TV screens above 60 inches may be too big and difficult to see clearly when sitting up close. However, if you're creating your dream home theatre, you might want something bigger, such as a 72 inch or even 80 inch TV screen.