TVs come in all different sizes, but there are some TV screen sizes that are more common than others. When shopping for a TV, you may see a lot more options in these sizes. These TV screen sizes range from moderate to extremely large. Which size you choose will depend on your budget, your room, and your personal preference for TV size.
First, it's important to know how TV screen size is measured. The advertised screen size of a TV is the length of the TV measured diagonally. This means a 32 inch TV is actually 27.9 inches in width and 15.7 inches in height, making the screen a total of 439.6 square inches.
Additionally, remember that a flat-screen HDTV has more actual viewing room than older TVs. That's because flat-screen TVs today are shaped differently than old TVs. Today's TVs are longer, creating a more rectangular shape. Older TVs, on the other hand, were closer to a perfect square, with the width and height being almost the same.
Now, let's examine some of the most common and popular TV screen sizes for today's modern flat screen HDTVs.
24 inches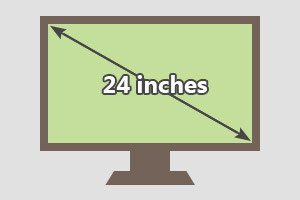 24 inches is one of the smallest sizes available for a TV. The main advantage of this small TV size is that they're extremely inexpensive. Even a nice LED TV will often cost under $150 if it's only 24 inches.
A 24 inch TV can be great as a second TV in another room, such as a kitchen. Though you won't be able to watch a 24 inch TV from far away, it's an inexpensive option and doesn't take up much space.
28 inches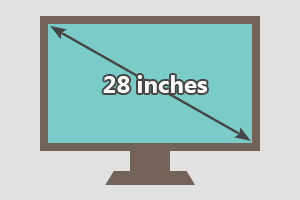 The next common size up from 24 inches is the 28 inch TV screen. A 28 inch TV screen is better suited for a living room as a primary TV than something smaller. It can be seen from a slightly farther distance and provides a better picture quality.
28 inches is a great size for an extra TV in a bedroom, too. It's big enough to enjoy watching movies or high-definition TV shows, but it's not so big that it becomes the focal point of the room.
32 inches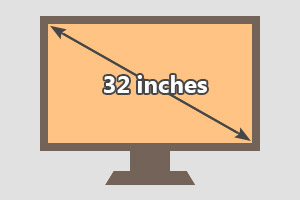 A 32 inch TV is a decent-sized TV for a small living room. While many people prefer larger TV screens, a 32 inch TV is big enough to watch from a distance of a few feet. It's an ideal size for a small space, such as a studio apartment or a dorm room where you plan to sit close to the TV.
Remember, your TV can be a focal point in your living room, and it's something guests will be looking at often. Choosing the right TV stand can tie your whole room together and make a modern electronic appliance look right at home in any room.
42 inches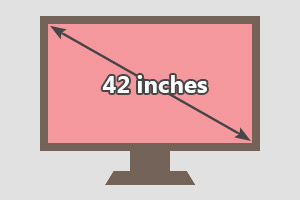 42 inches is a popular in-between size for TV screens. It's not quite big enough for most living rooms, but a 42 inch TV may be too expensive or too large for other rooms. With a 42 inch TV screen, you can sit a comfortable distance from your TV set and still easily see every detail.
Those who want a slightly larger TV but don't want to spend the money on a really big TV might enjoy a 42 inch TV. It's just big enough to enjoy, but not so big it will break the bank to buy one.
48 inches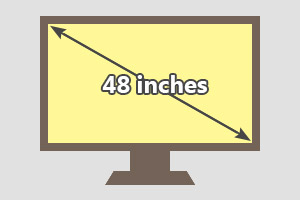 48 inches is one of the most popular sizes for a TV screen. There are tons of options to choose from when shopping for a 48 inch TV. You can find plenty of high-quality LED TVs and even Smart TVs in the 48-inch size.
Plus, 48 inches is an excellent size for a TV screen in any living room. It's big enough to sit across the room and still see every detail on an HDTV screen, but it should still fit in just about any living room without taking up too much space.
55 inches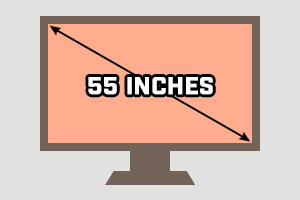 55-inches TVs used to be the most popular choice for common North America households because their size can fit well in most single house's living rooms/bedrooms or open floor plans small apartments. Being such popularity, most manufacturers or brands would have at least a couple of product lines of this size. You can find UHD LED, LCD, OLED, and QLED TVs from brands like Samsung, LG, Sony, TLC, etc., at this size.
As 55-inches TVs are being produced and more widely available on the market, their prices have been more reasonable to the common households with promotions going on back and forth.
Quality-wise, at 55 inches, you don't just get HD quality pictures, as most 55″ TVs are now equipped with Ultra-HD (UHD) 4k or 8k and smart features. So the experience will be a big leap between 55 inches and their smaller siblings.
65 inches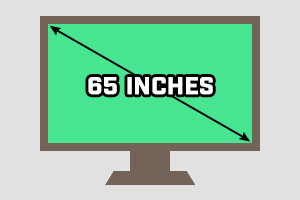 As of now – 2021, 65 inches TVs have been emerging to be the most popular TV size on the market. Due to overstocking of manufacturers during the tariff war, the price of 65 inches TVs has dropped majorly compared to smaller screen sizes. This lead to 65-inch TVs become more obtainable to the general public, considering the superior viewing experience.
If you have a large enough living room or master area, typically between 5.4 to 8.1 ft viewing distance, then 65″ TV with 4k resolution is a great choice. Like 55″, most TV brands would produce their TVs at 65 inches, so it's not difficult to find a TV of the types, or from your favorite brands at this size.
The 70s: 70, 75, and 77 inches
From 70 inches and up, manufacturers are dividing, and there are lots of off-size TVs. Still, you would likely find more TV types/brands of choice available in either 70-inches or 75-inches, which the latter is more popular considering the price difference versus the viewing experience leaps from 65-inches. However, if you're looking for an OLED TV, then 77-inches TV is your only choice in this size range.
All TVs in this 70s range are either built with 4k or 8k resolution, HDR-compatible, smart os, etc. Due to the price and size range, these are geared toward the bigger display areas, such as larger living rooms or in-home theaters.
The 80s: 85-inches or 88-inches
Like the 70s TV size range, the 80s are even more dividing with manufacturers producing here and there. Aside from OLED TVs fixed at either 83-inches or 88-inches by LG (which 88 is the largest OLED size you can find currently), other TV types can be found at 80, 82, 85, and 86 inches sizes. Obviously, you could find more TVs available at 85″ compared to other sizes in this range (for example, about 20/37 models sold on BestBuy at the time of this post), so 85-inches might grow to be the more popular sizes in the future, except for the OLED TVs.
Due to the size and features, in addition to their prices, 80+ TVs are definitely not for the typical small living room as they required at least 7.1ft viewing distance at 4k resolution. They are more fitted for larger walls or display areas with a bigger budget in mind.
90+ inches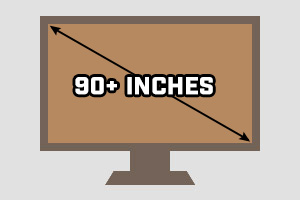 If the 60-inches TV size range was considered the "BIG" TV sizes years ago, it's now the 90s upward. Most people don't need a TV that's more than 90 inches since they require at least an 8ft viewing distance at 4k resolution.
In areas where houses' spacing is not a concern, these larger TVs' price tags would deter most people. A typical 90 inches model can be as much as double that of the similar feature 85-inches TV at this time, and they usually don't go on sale like smaller models. Still, they might be worth it as a future-proof option for your newly built dream home's theater or mansion or small commercial environment.