Since the first Cathode Ray Tube (CRT) TV is available commercially in the early 20th century, with technological advancement, the household TVs transform themselves through many different types. Picture quality becomes better, brighter, and more accurate to reality, while screen sizes are becoming larger and adapt to more people's choices.
This article will go back from the oldest CRT TVs to the newest OLED & QLED TVs with general information on how they work, their advantages, flaws, and drawback. In a sense, hopefully, this post will help you differentiate between television types and can therefore choose the right TV for your needs.
1. Cathode-Ray Tube or CRT TVs
CRT TVs had been developed since the 20s but weren't available commercially until 1934 by Telefunken, a German company. CRT TVs went viral and became the most popular electronic entertainment at the time, with a peaked sale in the 90s till 2000. During this period, CRT TVs were widely used in many fields, from family entertainment to retro gaming, airline, computer monitors, etc.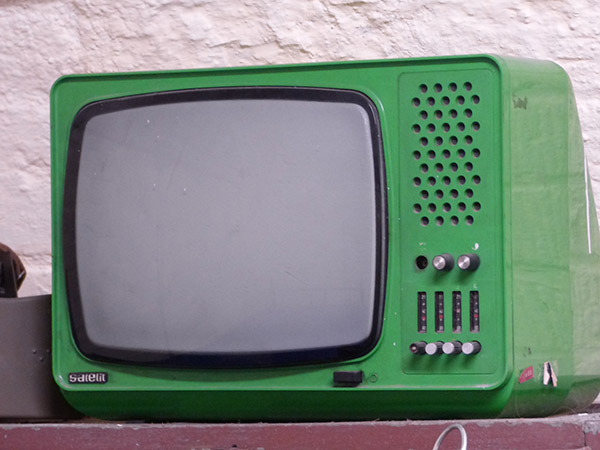 CRT TVs come in many different screen sizes, from the small portable 3 inches to a max of 40 inches. CRT TVs' screens can be square, rectangle, round, or even beveled-rectangle flat or curve. CRT's screens are coated with phosphor. When there's an input video signal, the inner Cathode Ray tube fire off a beam of electrons, which gets reflected by an electromagnet and flies sides to sides to light up the phosphor-coated screen' dots and "paint" the picture.
As the earliest type of commercially available TVs, CRT TVs have many downfalls over their successors, mostly due to their bulky build, heavyweight, higher cost to produce, and limited to smaller screen sizes. CRT TVs will also get burn-in when the coated phosphor is degraded, leaving a ghosted image on the screen even when turning off. Remember the trend of having screensaver back then, that was to counter this problem.
On the other hand, CRT TVs also have some advantage against newer generation TVs, mainly due to displaying pictures( drawing line-by-line instead of the whole image). CRT TVs can work with any resolution and device, giving a better refresh rate, and content can be sync across multiple CRT TVs. These made CRT TVs still being used within the airline industry, retro gaming/arcade, laboratories, etc., even though commercial production has been suspended for a while.
At this point, you probably can't find any new CRT TVs on the market, but some used models might be found online or in thrift stores. They're suitable for collective purpose and display older games from the classic NES, SNES, SEGA, etc., or odd resolutions video sources.
2. Plasma TV
Plasma TV's production was ended in 2015, though Plasma TV was known for its picture quality and high contrast ratio within the early HDTV generations during its prime time.
Succeeding CRT TVs, Plasma TV improves many features that CRT TV lacks, like higher definition pictures, larger screen size, and less bulky in size/ weight. The plasma display consists of many cells that were sealed with neon-xeon gas inside. The gas will be charged and strikes red, green, or blue phosphors on the screen to create an image.
Since a plasma TV screen can emit its light, it is emissive and gives better black (when not light up), thus yielding a better contrast ratio than most LCD or LED TV. In a dimmed room, Plasma TV gives better color accuracy and saturation. Plasma TV also has better motion tracking, almost no lag in fast-moving pictures such as sport. Another plus is its large viewing angle from the sides, Plasma TV doesn't suffer from the loss of picture quality/color outwash like an LCD TV does to its side viewers.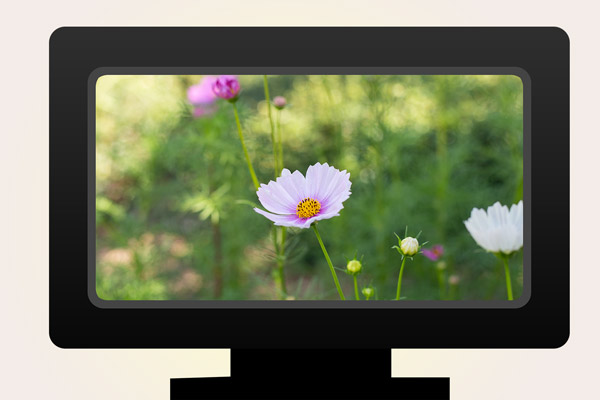 On the other hand, since Plasma TV needs to burn phosphors to generate or raster the whole image, it will create more heat than LCD/LED TVs, while also can leave a burn-in of prolonging static image.
Plasma TVs are distinct on the market with TV development and are not available in 4k and up to resolutions. Though, if you still have one in-house, it would still work pretty well as a secondary TV or small room entertainment. Plasma TVs can still last pretty long, as much as 100000 hours.
3. DLP TV
Texas Instruments developed DLP TVs as a continuation of their DLP projectors to the small home consumer user. A DLP TV consists of a digital micromirror chip with multiple microscopic mirrors inside, called pixels. Once there is a signal pass-through, these mirrors are activated and tilt to catch or negate the light source to create a light of bright or dark reflection. There's a spinning color wheel of the primary red, green, and blue colors that catch the light reflection and forming the final pixels on the screen to create the image.
DLP TVs have a good and bright image and almost 0 glare problem. However, they can suffer from burn-in like plasma/CRT TVs and have low color saturation and detail. Older DLP even has an inadequate response and trail issues.
Other models of DLP TVs use LED light (by Samsung) or Laser (Mitsubishi) to eliminate the spinning color wheel's uses, thus enhancing the overall color gamut. Most production for DLP TVs was also long-gone.
Though not as bulky as CRT TVs, DLP TV is still cumbersome and costs a lot to replace the light bulb periodically, making the issue-free lifespan shorter.
4. Liquid Crystal Display – LCD TVs
LCD TVs were the oldest form of currently producing modern TVs. LCD TVs are made of polarized glass panels of red, blue, and green colors, which Liquid Crystal molecules are running in between. The traditional LCD TVs use cold-cathode fluorescent light (CCFL) as the back lamp. As electric current passes through, these molecules will change their angle to allow various light levels from the back-lamp going through to the glass panels and projected onto the screen.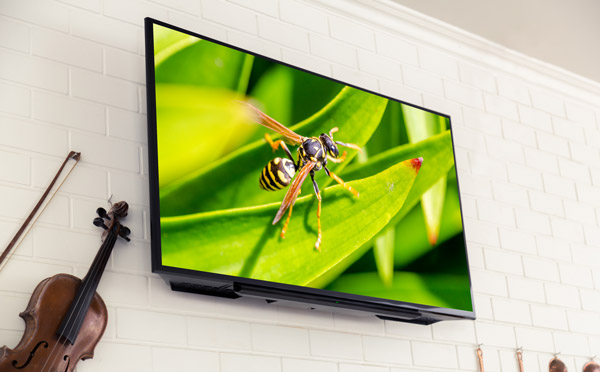 Size-wise, LCD TVs are pretty and compact compared to the similar screen size of CRT TVs, even though they still need some space/bump on the back where the CCFL light is located. LCD TVs are available in many different screen sizes from 13 inches & up by all the leading manufacturers. LCD TVs are so popular that they are available in all standard resolutions, from 720 HD, 1080 FHD, 4k, and 8K. Most production nowadays is gearing toward LED TVs – an LCD offspring that use LED lights to illuminate instead of fluorescent light.
LCD TVs have many advantages over previous TVs generation. They consume less power to operate while don't generate a large quantity of heat like CRT. LCD TVs also have no issue with burn-in static images.
Picture-wise, LCD TVs have a good brightness level but suffer from their contrast ratio, relying on true darkest black. As the light was never actually turned off during operation, black on LCD TVs look more like charcoal gray, thus reducing color accuracy.
Another downside to LCD TVs is the viewing angle. While most Plasma TV can be viewed 180 degrees without color distortion, LCD TVs' side viewer might run into a color loss.
The first few LCD lines don't last very long, expect to be around 5-6 years lifespan, plus the screen might suffer from burn-out of individual pixels. However, due to population demand and as most, if not all, TV manufacturers are switching over to LCD/LED TVs, the later LCD TVs can last longer with better color saturation and all.
Today, LCD TVs are cheap and can fit most budgets.
5. LED TVs
As mentioned above, nowadays, most LCD TVs are gearing toward using LED lights, either on the sides or the back instead of CCFL. LED TVs, or rather LED-LCD TVs, to be exact, are using similar technology to illuminate light through polarized glass panels/liquid crystals to achieve the images. Though most current LED TV brands have different kinds of filters to enhance picture quality.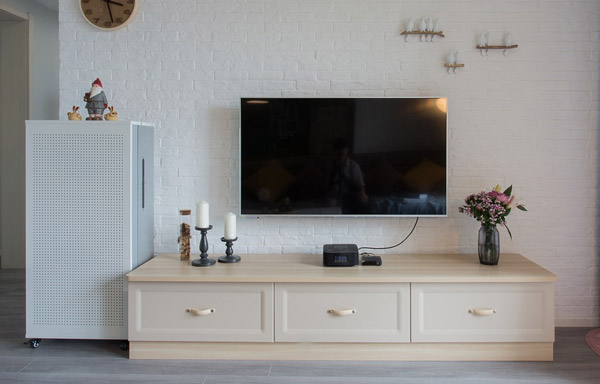 LED TVs have a few advantages over CCFL LCD TVs, such as less electric consumption, fuller viewing angle, better contrast ratio, and brightness, and reduced bulkiness… Typically edge-lit LED TVs are thinner and lighter than backlit ones. Though back-lit LED TVs improve picture quality with more accuracy in displaying color, still not truly black but much better than the gray in LCD TVs. In some LED TVs, part of the LED lights can be turned off separately, making some part of the screen completely darken.
Overall, LED TVs are really an upgrade over the original CCFL LCD TVs. However, there are still many flaws in picture quality parameters such as darkness/contrast ratio, color saturation, and angle-free viewing… that have not been solved. Like LCD TVs, LED TVs are also available in many screen sizes and prices, which contour the general public.
6. Organic Light-Emitting Diode – OLED TVs
Organic Light Emitting Diode or OLED TVs is an entirely different TV's technology, a leap to another branch. Instead of backlight like LCD, LED TVs, OLED TVs use a carbon-based film between conductors that can emit their own light when an electric current passes through.
It is unique that each pixel of the OLED panel can be turned on to emit light or off to darken completely. This is what makes OLED TVs truly differ from all other TVs type; they can have the true darkest black and hence infinity to 1 contrast ratio. At this point in time, in a dimmed and perfect condition room such as an in-home theater, OLED TV will provide the best picture quality; it can display details of dark color scheme so well that it turns any movie or games into a real experience.
Because OLED TVs don't rely on backlight or other structures to light up, OLED TVs, in general, are the thinnest and lightest in weight compare to different TV types.
The drawback of OLED TVs is mainly their cost and screen size availability. Without regard to picture quality, the lowest cost OLED TVs would be 2-5 times that of an LED TVs, costing an average of 1000 or more. Though a high-end LED or QLED TVs would cost as much as OLED TVs of the same picture quality. Thus OLED TVs are meant to target the upper budget households rather than the common generals.
OLED TVs rely on their panels being produced by LG, thus limit their screen sizes to a couple of standard sizes of 48″, 55″, 65″, 77″, and 88″. As one of the current leading TVs technology, OLED TVs are available in 4k+ resolutions.
7. Quantum Light-Emitting Diode – QLED TVs
QLED TVs, though with the name being misleading, are another upgrade over the standard LED TVs. In a sense, QLED TVs aren't precisely QLED because they are not self-illuminating Quantum Dot LED, but rather backlit or full-array LEDs (see LED TVs) shining through Quantum dot films or filter.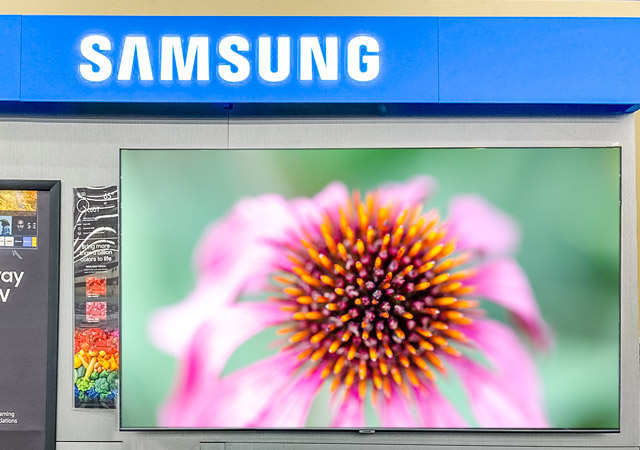 Speaking of Quantum dot, it was first introduced by Sony in 2013. This TV Technology is similar to OLED, as it relies on a nano-particle (aka quantum dots) that can be charged to emit its own light at super brightness and color. This "true" QLED type of TVs are not yet available and under future research and development.
The current QLED TVs, as we see on the market, are mostly referred to as Samsung trademarks of QLED TVs, consist of LED/LCD TVs with extra quantum filters, think of it as a layered sandwich. With competition among leading branches, namely LG's OLED TVs, Samsung also partners with Sony, Visio, Hisense, and TCL to promote QLED TVs' popularity.
With all of that, QLED TVs inherit many advantages of LED/LCD TVs, being their availability in multiple screen sizes, manufactured brands, and fit to various budgets. Though at the same picture quality, QLED TVs' prices cost as much as OLED, lower-end QLED TVs are genuinely less expensive.
Size-wise, QLED TVs are thinner than most LCD TVs; still, their weight and thickness are still larger than OLED TVs with the backlight.
With many development and adjustment filters, QLED TVs provide the best in brightness; their nits measurement can come close to 4000 per Samsung announcement. This making QLED tv one of the best in a bright, light-filled room, such as a large living room with windows, a family room in an open floor plan, etc.
QLED TVs also eliminated traditional LCD TVs' direct-view issue, making view at any angle still give the best color accuracy. The color gamut and saturation on high-end QLED TVs are as good as OLED TVs of a similar price range, making them direct competitors in the high-end TVs market.
CRT TVs
Plasma TVs
DLP TVs
LCD TVs
LED TVs
OLED TVs
QLED TVs
Contrast Ratio
200-300:1
3800:1
Up to 100000:1
150-6600:1
Infinity:1 due to true black at 0
Brightness
176 nits
50-200 nits
30-60000 lumens
200 – 2000 nits
Up to 1000 nits
Up to 4000 nits
Color Accuracy
Color accuracy is definitely not as good as newer technology
Provide the best color accuracy in dark /dimmed evironment
Not susceptible to glare, though color accuracy is not as good as other flat screens
In lighted or bright area, LCD/LED TVs provide the most accuracy of colors and picture.
Best in dimmed area with realistic color display
Comparable to OLED, uniformly color gamut in light environment as well
Response time/refresh rate
0.01 ms to 1 µs at almost 0 input lag
As low as 0.00001 ms at. Refresh rate at 480-600Hz
Pretty fast as low as 10 µs
1-35 ms depending on model, w/ refresh rate up to 480 Hz
Faster than LCD Up to 120 Hz
Faster than LCD Up to 120 Hz
burn-in?
High
High
High
Low
Low
Medium
Low
Viewing angle
Don't have much side view problem like LCD
Don't have the side view problem like LCD
Smaller view angle compare to LCD
Base on TV, 160-170 degree, expect loss of color on side-viewing
Not much loss in color or picture quality on side view
Negate content quality loss from side view
Screen Sizes
Up to 43"
Up to 150"
50" – 65"
Up to 120"
19" to 88"
48″, 55″, 65″, 77″, 88″
43" to 98"
Resolution Support
No native, support multiple odd resolutions
Up to 1080
Up to 1080
480 to 8k *
1080 FHD, 4k, 8k
4k and 8k
4k and 8k
Bulkiness
Very large and heavy, unsuitable for wall-mounting
Less bulky and lighter than CRT TVs, slim profile
Bulkier than all flat panel TVs.
Thin and light enough for wall mounted
Edge-lit LED is thinner than back-lit LED/LCD
Unbelievable thin and light. The most compact of all TVs
Slightly thinner and lighter than traditional LCD TVs
Energy Consumption
High
Depend on brightness output, but more than LCD
Low
Low
Lower than LCD
Vary based brightness, can be 40% of LCD on dark and 3x as much for bright image.
Low
Cost & Availability
Off-market, only available in special industry
Production stopped
Production stopped
Widely available, cheapest model as low as $100
Price starting from $1000
Promoted recently by popular brands, cost as low as $500
Lifespan & maintenance
High-voltage making it hard to prepare. Risk of implosion. Require calibration on location change
Anywhere from 30000 to 100000 hrs. Screen can not be prepared when internal gas leaked.
Can last up to 60000 hrs. Bulb replacement every 8000 hrs, cost roughly 250-350 on non-led models
Usually issue-free during service, can last up to 10 years or more. Expensive to repair. Cost to repair is larger than getting new budget model. Environmental hazard if mercury leak in CCFL LCD TVs.
Up to 100000 hrs lifespan. Sub pixels, particularly Blue are degrading faster than the others, reducing picture quality.
Manufacturers mention of 7-10 years lifespan
Table 1: Comparison between TV Types