Televisions are among the most essential appliances in a house. However, the television you choose will determine the experience and comfort you get when watching. Many people buy TVs based on the screen size, but knowing about all dimensions, angles, and distance is more important. For medium to small spaces, a 40-inch TV might be worth looking at.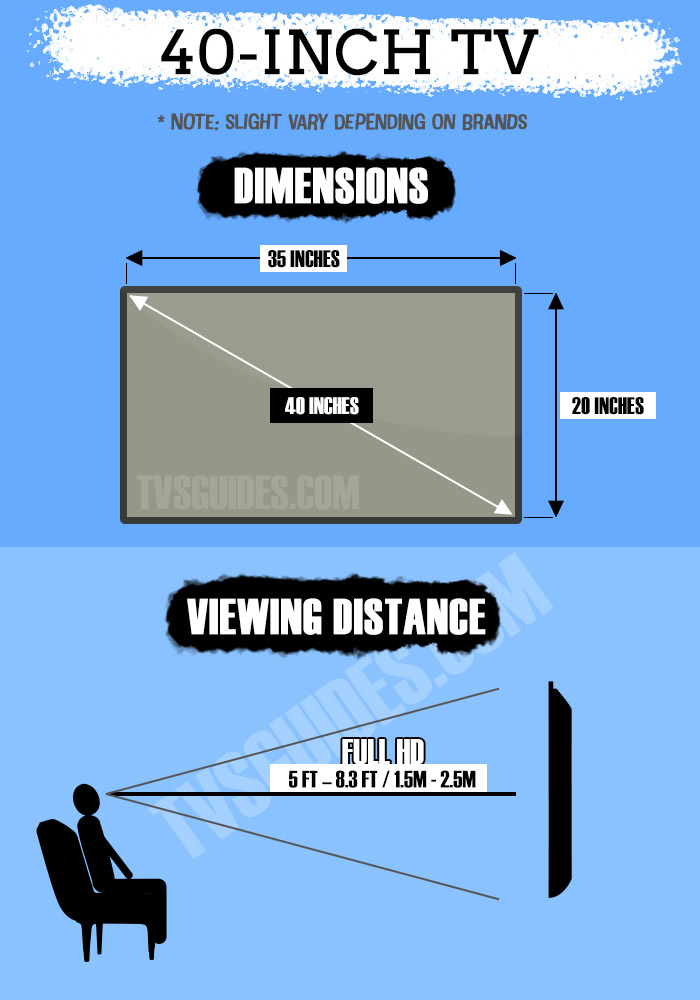 40-inch TV dimensions
One of the most important things to note is that the television screen size is determined by measuring the television's diagonal distance.
Most 40-inch TVs are usually 35 inches wide and 20 inches high without bezels since most have a 16:9 aspect ratio. Most bezels are generally 0.5-1 inch.
While you can use the Pythagorean theorem to determine the length and height, different TV brands have different dimensions.
Samsung- 36.1 by 21.75 by 6.70 inches
TLC- 35.6 by 22 by 7 inches
Hisense- 36.16 by 22.01 by 7.17 inches
Mi- 35.13 by 21.99 by 8.28 inches
Daiwa- 34.65 by 21.85 by 7.56 inches
Thomson- 37.56 by 23.43 by 8.66 inches
Insignia- 35.70 by 20.90 by 3.10 inches
Intex- 38.15 by 22.21 by 3.60 inches
Most of these brands usually have numerous TV models that may come in different dimensions. Therefore, ensure you clarify before purchasing.
Viewing distance
How close or far you sit from your television determines the image quality you get and how comfortable you will be. Sitting too close could result in eye strain while sitting too far means you don't get the best quality.
While the size of the room is the key determiner of how far you sit when watching, TV resolution also plays a huge role. The majority of 40-inch TVs are produced at Full HD quality. Therefore, the ideal sitting distance for your 40-inch TV is between 5 and 8.3 feet.
Field of view
This determines the field of vision the screen fills out and is an important factor to consider when choosing the watching distance. The recommended field of view for many 40-inch TVs is between 30 and 40 degrees.
Viewing angle
This angle determines how further on the side of the television you can move and still see clear images. This is important to consider if you have many people watching, especially if they are scattered around the room.
Most 40-inch TVs come with a 178-degree viewing angle, but that depends on your TV's display.