32-inch is not the mainstream size for flat-screen television as it used to be. However, it is still preferred by many people due to its portability and resolution for tight spaces, such as small bedrooms, kitchens, doms, or trailers…
Before buying a 32-inch TV, it is wise to have a little research on common dimensions and specifications to ensure the perfect experience and best fitting for your house and audiences.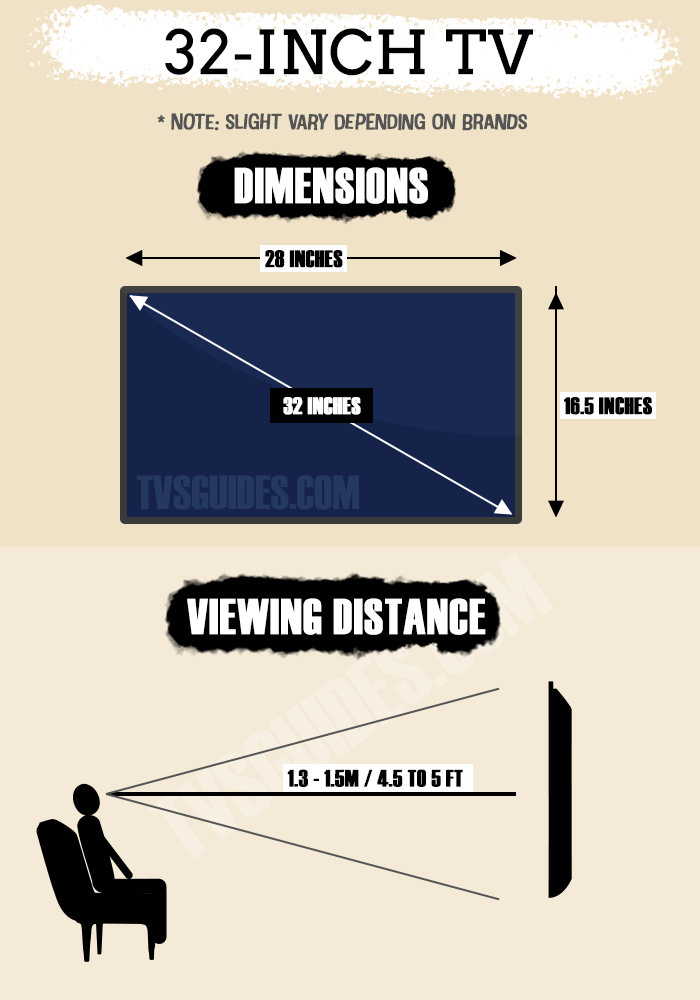 Dimensions By Brand
The sizes of different television names are measured diagonally instead of horizontally from the screen's visible side. Other measurements that determine a television's size are the width, height, and depth. Typically, a 32-inches TV dimensions will land somewhere 28″ x 16.5″, more or less.
However, this does not mean that all 32-inch televisions are the same. They vary depending on the brand, thickness, material, and model.
Here are some examples of dimensions for a 32-inch tv from common brands.
Samsung- 6.1 by 28.5 by 18.8 inches
Sony- 6.9 by 29 by 19 inches
Hisense- 3.4 by 28.3 by 16.9 inches
Sceptre- 7.94 by 28.78 by 18.34 inches
TCL- 7.1 by 28.8 by 19.1 inches
Insignia- 8.15 by 28.86 by 19.02 inches
Vizio- 7.04 by 28.88 by 19.49 inches
Viewing Distance
This is the distance between the television and the viewer, and it helps you determine whether your 32-inch television is the right choice for your house. Knowing the correct viewing distance also helps reduce eye strain and headaches.
To get a rough estimate, multiply the height of your television by three. This can differ whether you calculate the height with the stand on or not. According to experts, the perfect viewing distance for a 32-inch is 1.3 to 1.5 meters (4.5 to 5 feet).
This distance can vary depending on your television resolution. The higher the resolution on your television, the closer you can sit to it without seeing pixelated images. Most 32-inch TVs have a 1080p resolution. For smaller size TV such as a 32-inch, 4K capability should not be of your concern, since the visual difference, compared to HD or Full HD, is extremely narrow and often not detectable by the common eye.
Viewing Angle
This refers to how far a viewer can move to the side of the television without the images getting blurry or dark. This is a key factor to consider if more people will be watching scattered around the room.
Typically, there is usually a 30-degree viewing angle for most 32-inch televisions. However, this depends on the technology used on televisions. OLED televisions have the largest viewing angle, but it is hard to find a 32-inch OLED television.
Therefore, the best choice is an LED TV because of its brighter display plus enhanced contrast compared to an LCD one.