You are watching your favorite show or movie on the television when its screen goes blank or black all of a sudden. A blank or black screen could be a sign that your TV is switched off. But if it's producing sounds then obviously you know that is not the case.
When a television screen doesn't show appears or blank, this may possibly mean a few different issues. Fortunately, some of these problems can be fixed with minimal effort, but others may require professional service.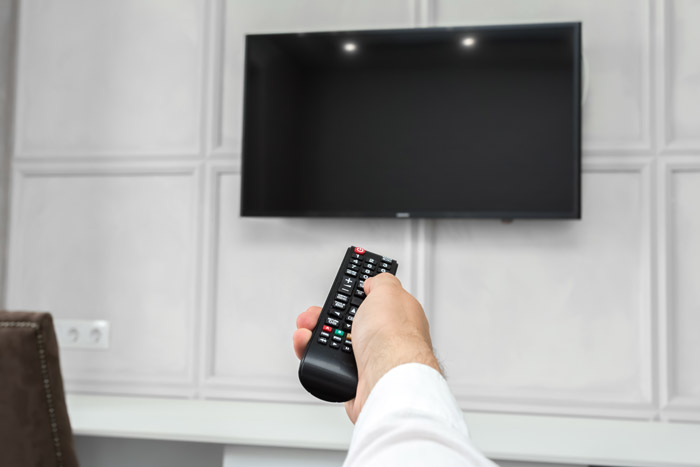 Are you wondering what causes this issue and what can you do to fix it? If yes, then keep on reading.
What Causes TV Screen to Go Black or Blank?
Failure in the power supply board
There are lots of root causes for a TV screen going out all of a sudden, but the most popular causes is a failure in the power supply board. Usually, a TV may have more than one power supply boards along with a T-con board as well as other internal parts. While such components may sound a bit complicated, in fact, they are very easy and simple to fix.
Backlight Issues
If you're using an LCD TV this is perhaps the reason why you're having a black TV screen. LCD televisions make use of backlight in order to illuminate the images on the screen.
However, if the backlight is experiencing some issues, you will not be able to see anything on your screen.
If you want to repair this problem you'll have to change your TV's backlight. But unfortunately, not all people are familiar with this concern. Thus seeking help from a professional is highly recommended. However, if you have just purchased your TV recently, you might be able to have it changed under the manufacturer's warranty.
There is a problem in the TV panel
If the screen of your TV becomes black or blank, there is a chance that your TV panel is damaged. So, if this is the case, you need to check thoroughly to see if getting a new TV is much better than investing in a new screen.
Loose connections
When the screen of your TV is unresponsive as well as blank, you need to check the connection between the power source and the TV itself, the DVD player, the cable box, and the remaining auxiliary devices.
Most of the time, inactive power sources and loose connections are the real culprits behind your blank and unresponsive TV.
"Sleep Timer" is activated
In occasional instances, the sleep timer of your television is activated causing it to switch off accidentally. This issue can be fixed with ease. All you need to do is check the sleep timer settings in the Setup menu of your TV.
Other Causes of Black or Blank TV Screen
When you're experiencing black or blank screen there might be something wrong with your TV itself and a trained expert is the only one who can diagnose and repair it.
In the actual fact, according to CNET, one of the most common issues with TVs most especially Samsung TVs involves the capacitor found inside the television. A television set that has his particular problem will not power up or display a picture.
Tips You Can Try to Fix A Black or Blank TV Screen
Check the power and connections
Most of the time, the best answer is the simplest one. So before you panic, check if everything is properly working or no loose connections. And after which perform the following.
Switch off your TV and then unplug it.
After 15-30 minutes, plug the TV back in then press and hold the power button for a few seconds.
Next, release the button and turn on the TV again
If you are attempting to check the picture from a cable box or other devices, swap it for another device. However, if it doesn't work, consider accessing the setting menu on your TV.
Replace the HDMI cable
Consider replacing your HDMI cable with a new one since it may possibly have a short or other defect that causes the blank or black screen problem.
Check the Power Saver Mode
Some televisions will automatically switch the screen off however it'll still produce sound if it doesn't detect any movement. Thus, if you think your TV has this feature, make sure to turn off the Power Saver Mode or Energy Save Mode.
Replace your TV's power board
If you have tried the first three steps and your TV screen is still black or blank, then consider replacing its power board.
Doing this job is pretty complicated. As a matter of fact, the board's model number and the methods that you are going to use will greatly differ from TV to TV. But one thing is for sure, it is a fix that everybody can perform at home with an insignificant experience.
To perform this you need to:
Prepare a soft towel or cloth to protect the screen of your TV, a screwdriver with a Philips-head, however, the size will differ depending on the TV's size, and a container where you can place the screws you're going to remove.
After which, lay the TV facing down and remove the back screws using the screwdriver.
Find the fuses on the TV, mostly there are five of them.
If a fuse has blown, replace it because it could be the root of the issue, instead of the power board
Look for the wires connected to the board and take them away.
Remove the screws holding the power board. Then replace the old one.
Put your new power board, then screw it carefully
Reconnect all the cables and wires
Put the back cover of your TV and secure it
Turn your TV on to check if the repair fixes the problem.
Hopefully, this content has helped you a lot in fixing your black or blank TV screen. However, if you are not confident enough in your skills to fix your own TV it is best to hire a technician to avoid causing further damage. But if your television is still under warranty, seek help from the manufacturer's tech support.