You always heard TVs being marketed as 40", 50", 60", etc. Wondering what this number is, or do you want to know if a TV will fit onto your entertainment center? Read on.
TV screen size measurement
As most TV is measured diagonally from the top-left to bottom-right corner, that's is the number for advertised screen size. Since most screens will have a small area being covered by the frame, you will find the actual measurement to be less, for instance, 39.9" on a 40-inch TV, 54.6" on a 55-inch TV…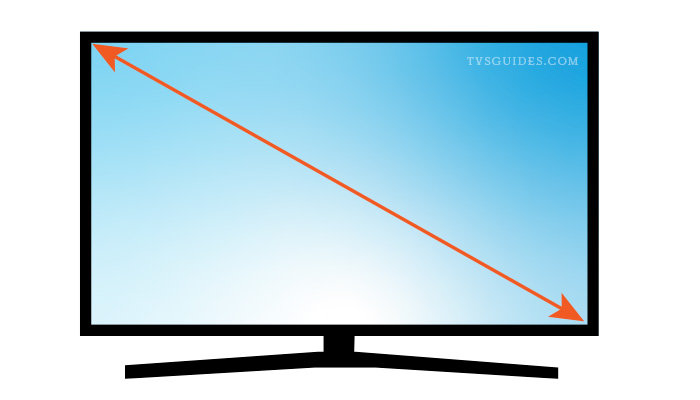 So, in short, if you want to know how big it is comparing your projected TV versus your old ones, measure them diagonally. Take a tape ruler and go from one corner to the opposite and continue going until you reach the desired TV size classification to have a clear vision of how big the difference is.
In reality, those classification numbers tell you how the screen is measured diagonally, but not really much anything related to its total height, width, and depth. You will need to manually measure all those sides and do some math, mostly if your TV display containment is enclosed.
TV Measurements for Entertainment Center or placement
It is hard to tell whether a TV will fit nicely or cramp on your display shelf. TVs come in all shapes and sizes, from flat to curve or bevel, etc. So to make sure yours fit well, always do some measuring beforehand to avoid frustrations.
To measure the TV correctly, you have to consider the actual dimensions: aka width, total height including stand, and the bevel's depth on the back. Even on the thinnest TV, the frame alone can add from ½ to 3 inches to the screen's width and height. The included TV stand also worths anywhere from 6-12 inches, so unless you will mount your TV, add this number to the total height as well.
So when shopping for a new TV, measure the space of your TV stand/entertainment center. From these numbers, subtract away 2-3 inches on each side (top, bottom, left, and right), which will give you an approximate allowable space. If your TV is on its built-in stand, take that number away to get the accurate height. With the width and height figured out, now you can shop for your TV easier.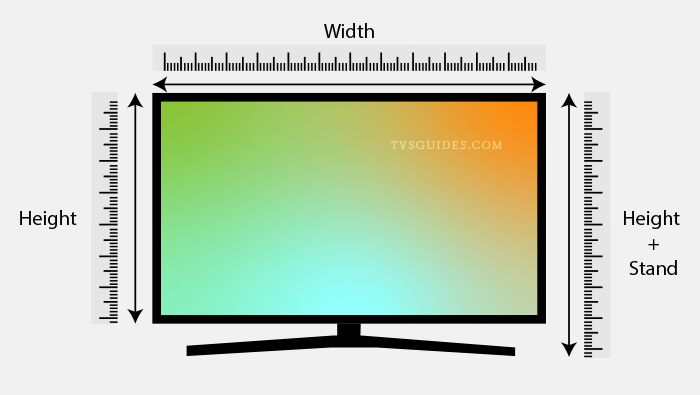 If you are buying a TV at the store, don't forget to bring a tape ruler along. Since you can measure the displayed unit quite well, doing that will ensure the new TV fit nicely.
One more thing to remember is the depth. Now it's only a concern if your entertainment center/shelf is a narrow one or you are getting an older TV model, which has its back bevel quite thick. For this, use your eye judgment to approximate the depth when measuring.
Ensure to leave some space on the back or around all sides of the TV for easier maneuvering, connecting cable, and heat-dissipating.