In many living rooms today, TV is the center of the room. It's where we gather with family and friends, and it's one of the first things your guests look at when they enter your home. Having a nice TV is one thing, but having the right TV stand can make your room look complete. In this guide, we'll take a look at the best TV stands available on the market today and help you choose the right TV stand for your home.
Review on the top 10 best TV Stands
First, let's take a look at some of the most popular and stylish TV stands you can buy online. These TV stands are a good fit for just about any room and complement most styles of décor and TVs well.
1. Simpli Home Shaker-style Media Stand
The Simpli Home Warm Shaker Media Stand is handcrafted from solid pine wood. Its shaker style conveys a relaxed, informal look that is ideal for less formal living rooms, dens, or TV rooms.
This stand is available in two sizes. The wide size is 72 inches wide, 26 inches high, and 17.5 inches deep. It holds TVs up to 80 inches wide. The standard size is 47 inches wide, 18 inches deep, and 29 inches high. It will safely hold a 52-inch flat-panel TV.
The standard size has two adjustable shelves with power-cord openings in the back, two cabinets with doors, and two drawers. The wide media stand has all that plus two additional cabinets. Both sizes are available in black, distressed grey, honey brown, and tobacco brown.
This media stand is made from solid wood with plywood back. It takes a bit of effort to assemble. Read the instructions before assembling.
2. Leick Mission TV Stand
This stand is available in 50- and 60-inch widths. Both sizes are 20 inches deep and 25 inches high. The 60-inch stand holds TVs up to 60 inches wide while the 50-inch stand can hold a 52-inch flat-screen TV.
Each size features a shelf in the center behind a glass cabinet door and a cabinet area at each end with a wooden door. The 60-inch stand has two glass doors in the center while the 50-inch stand has one glass door. There are cut-outs in the back behind each shelf for power cords.
This TV stand is made from a combination of solid hardwood pieces and oak veneers. It is incredibly easy to put together. In fact, most of it is already assembled. It can be finished in as little as 20 to 30 minutes.
3. WE Furniture 58″ Wood TV Stand Storage Console
There are five color options to choose from, so you can pick the color that matches your room and your personal taste best. The TV stand comes in black, charcoal, driftwood, espresso, or natural. The natural option looks like pine wood with a natural wood texture, but this TV stand is actually made of a high-quality, durable laminate.
This TV stand would work best in a home with a simple, modern design, but could easily blend in with any style of décor. It has clean lines and a simple design with no extra embellishments. In the back, there are holes to thread cables through, so you can easily manage any wires and keep them out of sight for a cleaner, more organized look.
This particular TV stand will only hold flat-panel TVs with a screen up to 60", so if you have a large TV this stand might not work for you. The top of the stand measures 58" and the height is just over 23", so keep in mind that your TV may be a little lower to the ground than you'd like if you place it directly on this stand.
4. Prepac Altus Plus 58″ Floating TV Stand
This floating TV stand has three open compartments that are ideal for storing your cable box, DVD or Blu-ray player, and game consoles. In addition, there is one long shelf that can hold your movie or game collection.
The stand itself is made of composite wood laminate and comes in three different color options to match a variety of styles. At 58" long, this stand won't hold the biggest flat-screen TVs, but most TVs will fit nicely. The sides of the stand are curved, giving it a unique and almost futuristic look.
5. Southern Enterprises Remington Media Stand
This stand is 24 inches high, 15.75 inches deep, and 52 inches wide. The manufacturer says it is designed to hold a 50-inch flat-panel TV, but it will support up to 85 pounds.
This TV stand's design is very simple with one open shelf area at the center and an enclosed cupboard with a glass door at each end. There is only one hole at the back of the center area for power cords.
Assembly is a bit complicated and may take up to two hours to complete. It is constructed from rubberwood with veneered plywood back. Rubberwood is a type of hardwood.
6. Simpli Home Amherst Tall TV Media Stand
The Simpli Home Amherst Tall TV Media Stand is a higher quality TV stand that will fit in easily with even the most traditional living rooms. This stand offers plenty of storage space, with shelves built into the stand. There are also two doors, creating a hidden storage space on either side of the TV stand.
This TV stand has plenty of room for all your consoles, cable box, and DVD or Blu-ray player. The built-in cabinets have space for DVDs, games, or other items as well. The back of the stand has plenty of space for all your cables and wires so you can easily thread wires through and keep them hidden. There's also an additional long shelf at the top of the stand for extra storage space.
The Simpli Home Amherst Tall TV Media Stand has an elegant design, with tapered legs and a molded crown edged table top. The doors are panel framed with decorative knobs are made of antique pewter, giving the stand a more finished look.
This stand is 58" long and has plenty of space for most TVs, but won't hold extra-large TV sets. It comes in two colors—black and a dark brown espresso color called Dark American Brown.
7. AmeriwoodHoome Carson TV Stand
This TV stand is available in a 50-inch corner stand style that is 20.5 inches high, 18.5 inches deep, and 47.64 inches wide. It will hold a 50-inch flat-screen TV. It's also available in 50-inch and 70-inch flat-wall designs. The 70-inch size is 20.5 inches high, 15.35 inches deep, and 63 inches wide. The 50-inch size is 20.5 inches high, 15.75 inches deep, and 47.2 inches wide. There is also a 70-inch stand available with an electric fireplace at the center.
Each size has a horizontal shelf along the entire width, a shelf at the center, and a cupboard with a solid door at each end. There is also a shelf inside each cupboard and cutouts in the back panel for cords.
This stand constructed of laminated particleboard, but it is extremely budget-friendly and sturdy. Assembly is a little complicated. The cupboard doors can be difficult to align.
8. Sauder Orchard Hills Entertainment Credenza
This TV stand is 21.22 inches deep, 25.47 inches high and 59.68 inches wide. It will hold a 55- to 60-inch flat-screen TV. This is a sturdy piece of furniture that is rated to support up to 240 pounds. It weighs nearly 150 pounds.
There is a raised trim piece along the front and sides to help keep the television from slipping off if it's placed too close to the edge. It has an open shelf area at the center, two side-by-side storage drawers, and two small enclosed cupboards. The back of the shelving area has perforated holes that can be cut out for power cords.
Assembly will take about two hours. It should be done by two people.
9. Whalen Furniture Calico 3-in-1 TV Stand
The three shelves provide some storage space, but this stand is a bit smaller at only 54" long and doesn't have as much storage room as other options. The real appeal of this TV stand is that it can be adjusted to display your flat screen TV in three different ways. You can use the hardware on the back of the stand to wall-mount your TV or swivel mount it. The stand can also be used as a traditional TV stand to set your TV on.
Although the stand is more open than others, there is a cable management system built in to help with hiding unsightly wires. Those who want a space to store DVDs, Blu-ray discs, or video games may be disappointed with this TV stand, as it has no shelves or cabinets for these. There is room for your cable box, DVD or Blu-ray player, and video game consoles, however.
The design of this TV stand is more modern and sleek than some other options, with a steel frame and glass shelf that give it a shiny, sharp look. There is only one color choice for the wood top and bottom, which is a dark brown espresso color.
10. Sauder Palladia Panel TV Stand
This TV stand is smaller than most, holding only up to a 50" TV, but it should have enough space for most. It has a molded crown edge top and column designs on the sides to add elegance and help your TV stand blend in with another décor. Unlike some TV stands which have a more industrial look, the Sauder Palladia Panel TV Stand is a beautiful piece of furniture on its own.
The stand is made of high-quality wood with solid construction. There is only one color option available, a cherry stain. This color can blend well into most living rooms, but it is a bit bold compared to other wood finish colors. The silver knob handles add a nice detail, making this TV stand suitable as a centerpiece in your living room or any other room.
How to Choose the Right TV Stand
Ultimately, the TV stand you choose will depend on a few factors. You'll want to consider your storage needs, how much stuff you want to put on your TV stand, the décor of your living room, and your personal taste.
Storage Space
There are a wide variety of storage options in TV stands. While some units have storage space designed to hold your DVD, Blu-ray, or video game collection, others have only enough space to hold a flat-screen TV. In today's world of streaming and digital media, many of us don't have huge collections of movies or games to store. This means you may want a TV stand that takes up a little less room and doesn't have the same storage capacity as other options.
Luckily, if you do have a lot of movies or games in your collection, there are still many TV stands that offer space for storage. You can choose between TV stands with open shelving or those with doors. If you prefer to keep your DVDs or video games hidden, a TV stand with solid doors is a great option. They provide a neater look and keep clutter out of sight. TV stands with hidden storage also tend to match a more traditional style décor better.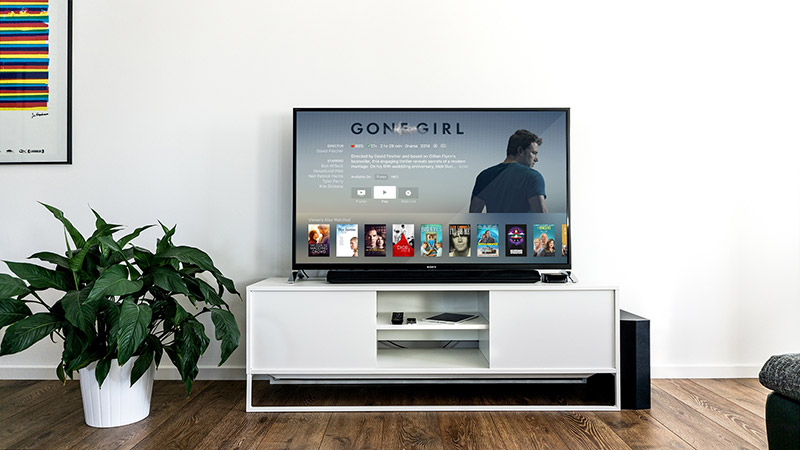 You'll also want to consider how many units you're planning to hook up to your TV. More and more households have multiple video game consoles, as well as other items. Almost every TV owner at least owns a cable box, so you'll need space for it somewhere on your TV stand. Additionally, many of us have DVD players, Blu-ray players, and more. A TV stand with open shelves works best for these units since remote controls and controllers don't work with a closed door in the way.
Décor and Style
Just about every home has a TV stand, so there are tons of options when it comes to the style of your TV stand. There are plenty of options that are plain enough to match any décor. If you're not sure what will match your living room, a plain black geometric TV stand is a popular choice that's easy to dress up however you want.
If you don't need a lot of storage space, an option like a floating TV stand is a great choice. It gives a more modern look to your room and can be sleek and trendy. A floating TV stand also saves some floor space, which is great for those with smaller spaces.
There are also TV stands that look more like traditional furniture pieces. There are plenty of TV stands made of all different types of wood or featuring different designs to add elegance to your living room. These can blend seamlessly into a traditional living room, as long as you're careful to choose a wood stain and design that matches the rest of your furniture.
Materials
There are a few different choices when it comes to the material your TV stand is made of. While wood used to be a popular choice, there are many more options that may suit your needs better.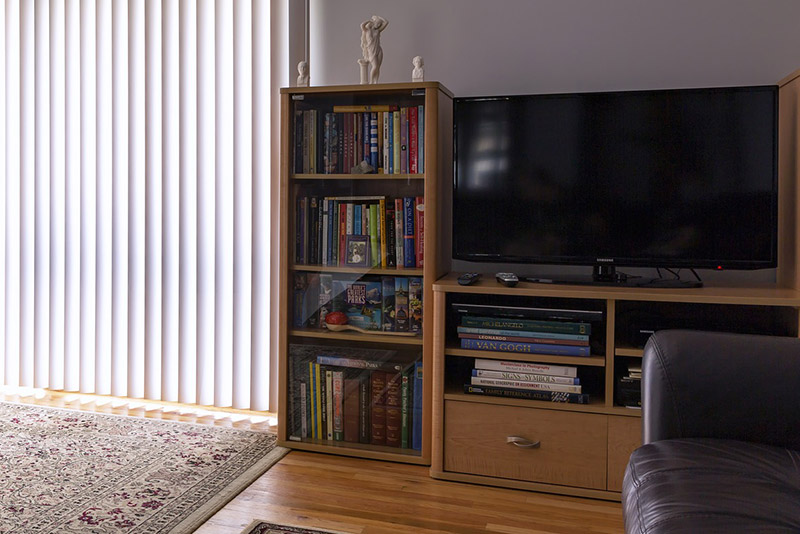 If you're looking for something that has the classic look of wood but is lighter and less expensive, a wood composite or laminate is an excellent choice. These have a wood grain look but are cheaper to produce and therefore cost less. However, laminate won't last as long as solid wood, and it's not a perfect match if you have other wood furniture.
Metal and glass are more modern options that can also look great in your living room. Like wood, metal and glass are heavier and more expensive options. They can also be harder to clean since both metal and glass show dust and fingerprints more easily than wood or laminate.
Finally, wood is still a popular option. Solid wood is of high quality and lasts for decades. It can easily be painted or stained if you want to change up the look of your TV stand in the future, and there are plenty of options when it comes to types of wood.
Size
The size of your living room and the size of your TV will determine how large a TV stand you want. If you have limited space in your home, you'll naturally want a TV stand with a smaller footprint. This can mean finding a floating TV stand or simply choosing a smaller TV stand overall.
However, if you have a larger TV, you'll naturally need a bigger TV stand to accommodate it. Today's flat-panel TVs are thinner, but the screens are getting bigger all the time. Measure your TV before shopping for a TV stand to ensure your TV will fit on the stand. Remember, the measurements for TVs are usually given by the diagonal measurement across the screen, so you'll want to measure the bottom of the TV screen or the base of the TV to make sure you get a TV stand that will hold your TV easily.
Conclusion
Today's shoppers have more options than ever when it comes to choosing the right TV stand. Ultimately, your personal preferences will determine what type of TV stand is right for you. Think about your budget and tastes when looking for the perfect TV stand and tailor your search to meet your needs. Whether you want a sleek, modern TV stand or you're just looking for one with enough room to store your DVD collection, you can be sure you'll find something online or in a store near you that meets your needs.
Remember, your TV can be a focal point in your living room, and it's something guests will be looking at often. Choosing the right TV stand can tie your whole room together and make a modern electronic appliance look right at home in any room.