In many homes, the TV stand sits at the center of the living room. This makes it a focal point of your room and an important piece of furniture. Many people want to decorate their TV stand to make it more attractive. In this article, we'll explore some ways that you can dress up your TV stand.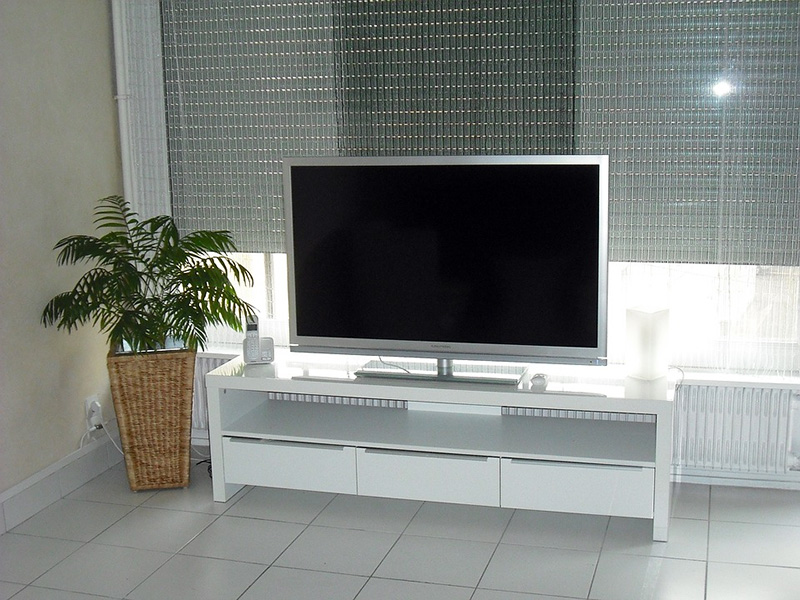 Keep it organized
One way to make your TV stand look nicer is to keep any DVDs or games organized. If your TV stand has open shelves, try some decorative baskets or bins to keep them organized and make your TV stand look nicer. There are tons of options, such as woven bins or cloth bins, that will dress up any TV stand.
Add a few lamps
Small lamps are a great option for decorating your TV stand. Be sure to put a lamp on either side to balance it out visually and provide even lighting for your TV. To ensure you still get a good picture on your TV, place the lamps far enough out to the side so there's no glare on the screen.
Include some greenery
Plants or flowers can dress up any space. Putting a few small plants to the side of your TV adds interest and brightens up your TV stand. Some plants, such as vines or orchids, look great coming from behind a TV. If you don't want to worry about keeping plants alive, silk plants or other fake plants are an excellent option.
Use decorative candles
Candles are a fun way to make your TV stand more attractive. Even when not lit, candles can dress up your TV stand. When your TV is off, you can light the candles to add ambience to your living room. Decorative candles dress up a TV stand even more, but you can also use plain candles with a candle holder.
Decorate around the TV
Another way to decorate your TV is to hang items or place shelves around the TV. Small shelves can hold pottery, flowers, or books, which will make your TV area look more sophisticated. Hanging pictures or even mirrors around the TV is also an excellent option.
Decorate the shelves
Placing decorative items, such as books or pictures, on shelves in the TV stand dresses up any TV stand. Use open shelves to display items underneath the TV in addition to decorating on top of or around the TV stand.
Change it up seasonally
TV stands are easy to decorate, and it's easy to change it up for the seasons. Around the holidays, you can add some seasonally themed decorations. Display Christmas cards in December, for example, or pumpkins during the fall. This is an easy way to decorate for holidays without changing out much.
Don't overdo it
While decorating your TV stand is a great way to make your whole room look better, it's easy to overdo it. Too many items around the TV can be distracting when you're watching TV. Be careful, too, not to place anything where it might be in the way of the TV. Try sitting around the room to make sure you're not blocking anyone's view.