It can be hard to know exactly what TV size you should buy for your room. Most people want to get the largest TV possible, but that's not always the best idea. There are many reasons to get a smaller or medium-sized TV rather than looking for the biggest TV that will fit in your room.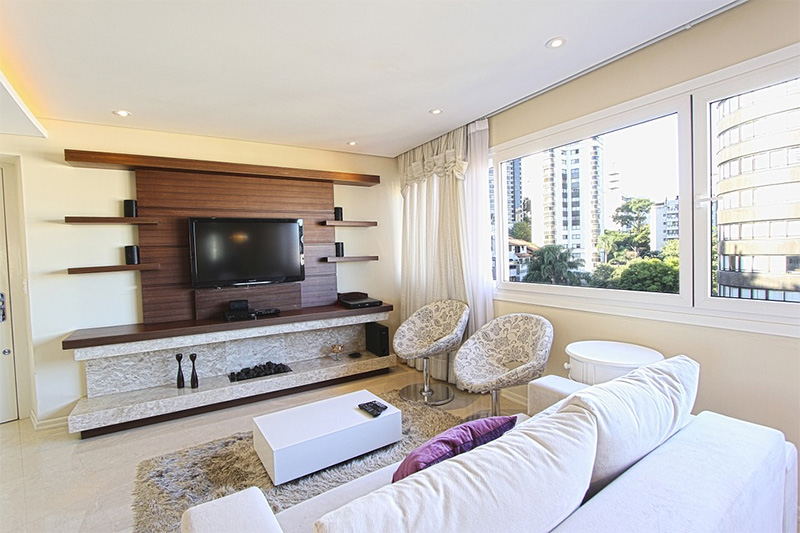 Some factors to consider include the size of your room, how much space you have for the TV, how far you plan to sit from the TV, what you plan to watch or use your TV for, and your budget. We'll examine all of these factors and help you decide what size TV will be best for your room.
1. Size of Your Room
A larger TV will look overwhelming in a small room. For example, if your bedroom is 12 feet by 12 feet, a 70 inch TV will take up quite a bit of space and distract from any other décor in the room. On the other hand, a big TV is fine in a larger room.
Additionally, if you're in a bigger room, you may be sitting further away from your TV. This means you'll want a bigger TV so you can see the screen from farther away. In a small room, you'll be forced to sit closer to the TV and will want a smaller TV.
2. Free Space
Think about how much free space you have in your room before purchasing a TV. If you have a very limited amount of space for a TV stand, you'll either want to get a wall mounted TV or find a smaller TV. This is also true if you don't have much wall space due to windows or art on your walls.
If you have a lot of free space, a larger TV can fill up the space and make your room look more finished. Be careful, however, as a big TV can quickly take up too much space and make a room look tacky or strange.
3. Seating Distance
The distance between your couch or chair and your TV is one of the most important components to choosing the right TV size. There are some simple rules to follow to get the best viewing experience if you have a limited amount of space between your TV and couch.
One good rule of thumb is to take the size of the TV screen and multiply it by two. This is roughly the ideal viewing distance for your TV. However, this rule won't always work. If you have a 4K Ultra HDTV, you'll need to sit closer to the TV screen in order to see all the extra detail.
For an average HDTV, however, this rule is typically accurate. For example, if you have a 40 inch TV, you can sit about 6-7 feet away from the TV and comfortably watch. If you sit further away, you won't be able to see every detail. However, if you sit closer the picture won't be clear and it might be hard to see the whole screen.
4. Use of Your TV
You also want to consider what you'll be using your TV for. If you're planning on watching TV shows or movies and don't care much about seeing every detail, a smaller TV works fine. On the other hand, those who enjoy playing video games may want to a bigger TV. This can help with seeing all the details needed to play most modern games.
5. Budget
Additionally, you'll want to consider your budget. Larger TVs are more expensive. Even if you'd prefer to have the biggest TV possible, your budget may limit you to a certain size. A bigger TV that's lower quality might be cheaper, but you won't get as good of picture quality. It may be better to go with a smaller TV that has better picture quality.
Check out our guide to find the best TV sale price.