Wall-mounted TVs are a hot look in the world of TV design. Wall mounting your TV provides many benefits, from giving your room a sleeker look to freeing up extra floor space. You can decorate however you want around the TV, too.
But it can be hard to figure out where to put your wall-mounted TV. The height of your TV can either make it hard to watch, causing neck pain and discomfort, or create an easy viewing experience. So how do you find the perfect height for your wall-mounted TV?
Ideal Viewing Height
First, you'll need to find the ideal viewing height, which is right at eye-level. Of course, everyone's eyes are at a different height depending on the height of the person. A 5-foot tall person might have to strain their neck to see something that's right at eye-level for someone who's 6 feet tall.
To figure the ideal height for a standing person, just take the person's height and subtract a few inches. The average person is about 5'6" to 5'8", but if you live alone you can simply use your own height to calculate the perfect placement.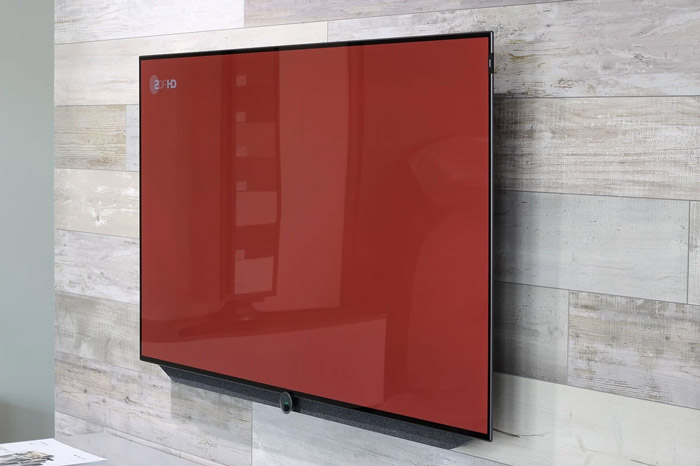 Of course, in many homes, people are usually sitting down while watching TV. In that case, you'll have to measure the height of the couch and then consider your own height from the waist up. Sounds too tricky? The average couch is about 18 inches off the floor and the average adult's eye level, when sitting on an 18 inch high couch, is 42 inches from the ground.
That doesn't mean you should put your TV 42 inches above the floor, however. You want the very center of the TV screen to be 42 inches from the floor. Measure your TV screen from top to bottom and subtract half of that size from 42.
For example, if you have a 50 inch TV, it's about 24 inches tall. So if you plan on watching TV while sitting on the couch, you'll have to take half of 24 (that's 12) and subtract it from 42—that gives you 30. The bottom of your 50 inch TV, then, should be 30 inches from the floor.
Other Height Options
Sometimes the ideal viewing height isn't the only thing that determines how high you hang your TV. Lots of homes have other focal points that you may want to design around, such as a fireplace, a feature window, or even built-in cabinets. This can mean placing your TV at a less than perfect height.
As long as your TV isn't so high or low that you have to strain your neck to see, you should be okay. Some people purposely put their TV higher or lower than the "ideal" viewing height. For one thing, you might decide you prefer your TV higher so you can stand while you watch TV. If you want to be able to see the TV screen from another room—say, the kitchen—you'll probably want to place it higher than eye level.
Remember, where you mount your TV is all up to you. Think about how you usually watch TV and decide what height works best for your needs.