In this article, we compare 50 and 55-inch televisions. And we'll be honest with you, 50 and 55-inch televisions are no longer the most popular style of televisions.
People have swallowed the snake oil that bigger is better, and so today the minimum size television purchase for most people is 65 inches. We think that's wrong, that for a number of reasons a 50 or 55-inch television is better, but read on and you be the judge.
What do people mean when they say 50 or 55 inches?
This is the first element to cover. Most people assume that a 50-inch television is 50 inches wide and a 55-inch tv is correspondingly 55 inches wide.
Wrong.
Televisions are actually measured diagonally, a fact that most people do not know.
As a consequence, a 50-inch TV is ranging around 44 inches wide and a 55 inch TV is 48.5 inches wide.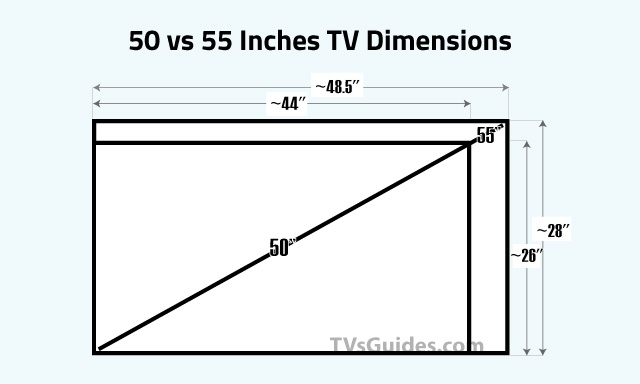 Viewing area
The total viewing area is a better measure of television and the total viewing area is 1068 square inches, while the total viewing area of a 55-inch television is 1293 square inches.
In essence, a 55-inch television is roughly 20 percent bigger than the viewing area of a 50-inch television.
Distance
As far as viewing distances are concerned, a 4K 50 inches TV can be best viewed from 6.3 ft to 10.4 ft or 4.2 ft to 6.3 ft for the Full HD counterpart. The 55 inches TV, on the other hand, can be watched from 6 inches further, which is anywhere between 6.9ft to 11.5 ft for the 4k models and 4.6 ft to 6.9 ft for the Full HD model.
Depending on the sitting areas, one might be more suitable for your settings than the other.
Price
Actually, and surprisingly, the price difference between a 50-inch and a 55-inch television is almost totally negligible.
Provided you do not go for an OLED TV, expect to pay from as little as $379, up to around $700 for a top brand.
You might save $20 to $50 by choosing a 50-inch, but the prices are so close that price is not an object here.
However, step up to a 65-inch television or larger and you can expect to pay at least $100 to $300 more.
While there are cheap 65-inch TV's for sale, the very best brands are significantly more expensive in a large screen television.
Fitting your decor
Not everyone has a large living room, and a huge 65-inch television will tend to dominate the entire room.
And as most people have a television in each bedroom, a 50 or 55-inch television does not tend to overpower the room.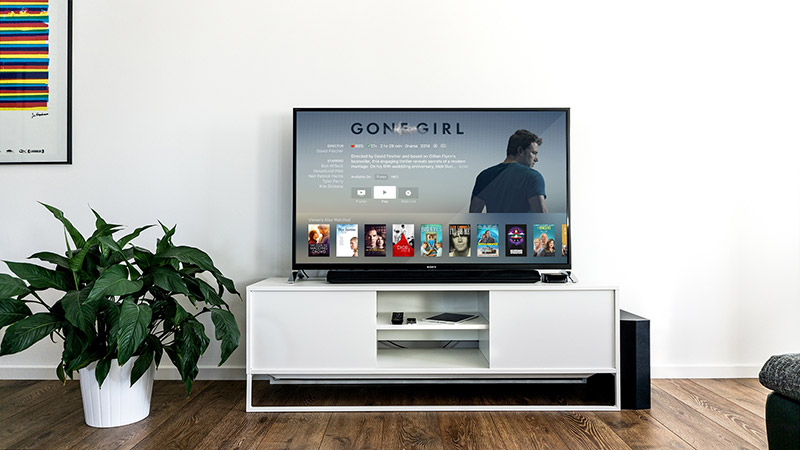 Note also, that when people are watching television in bed, they tend to sit much closer to the screen than in the living room.
Do you really need a 65-inch behemeath?
Even if it fits in your budget do you really need a large size television?
Unless your living room is very large, or you tend to have a huge family or lots of guests, most people really do not need a super large television.
Not only is a 50 or 55-inch television easier on the eyes, but the reason most people buy a larger TV is to be immersed in the experience, whether they watch sports, movies, or play video games.
But do you really want your 12-year old son immersed in playing some violent video game?
TV can be great, but do you want to be zoned out and really not pay attention to your wife or kids? The answer for most people is no. Bigger does not mean better.
And don't be hyped into buying a 4k or 8k television. Not only are shows and movies rarely in 4k, but they won't be for a very long time.
The bottom line?
Think carefully about how intensive you want your TV experience to be.

Don't buy a television that is too costly.

Today's state-of-the-art television is yesterday's hand-me-down. And as nobody fixes televisions nowadays, why even buy new.

Take a look on Craigslist or the Penny Saver and you can typically find a quality 50 or 55-inch tv for around $150, and often you can bargain that price down another $30 or so.

In addition, most used TV's come with their own TV stand as well.

And since the warranty on most televisions, even the best of them only lasts a year but an LED TV will typically last 4 to 10 years, do yourself a favor and save by buying used.

Don't buy an internet-connected TV

Smart TVs are often more expensive, allowing your kids to download all kinds of applications which tend to be not only security risks for the family but allow the kids to all kinds of unsupervised activity.

If you need a Television to add Netflix for example, a simple Firestick or a direct connection via the TV's internet connection will be all you need.
To sum up, we are very much in favor of 50 or 55-inch televisions. They entertain without overwhelming.
TV should not be the dominant feature in your family viewing, and a 50 or 55-inch size television is plenty big.
If you need bigger on game day, go to a sports bar and cheer with other fans.