Imagine you wake up one morning and choose to spend your day watching some incredible movies or catching up on the latest news and documentaries. It's something that every person has a desire to do on some occasion, however, most people have standard size television sets to partake in such a day. But given the chance, how would you like to enjoy viewing a Netflix movie or your favorite entertainment show on a 100-inch television set that has all the fancy bells and whistles?
Take it a step further and invite guests over to pretend as though it's a real-life movie theater and it's all in the comfort of your own home. That's where we are today; stationed in our remote lives and socializing with small group settings that afford quality intimacy and a different type of relationship-building. Having a 100-inch TV is merely icing on the cake!
What Exactly is a 100-inch TV?
More than what the name implies, a 100-inch television set boils down to the overall dimensions of the screen and its stand, and how this particular monstrosity of technology can fit into your household. Buyer beware though, the price tag of these entertainment pieces isn't cheap. The average cost of a 100-inch TV can run anywhere from $2,000 to almost $10,000 dollars, and that's not including tax or delivery.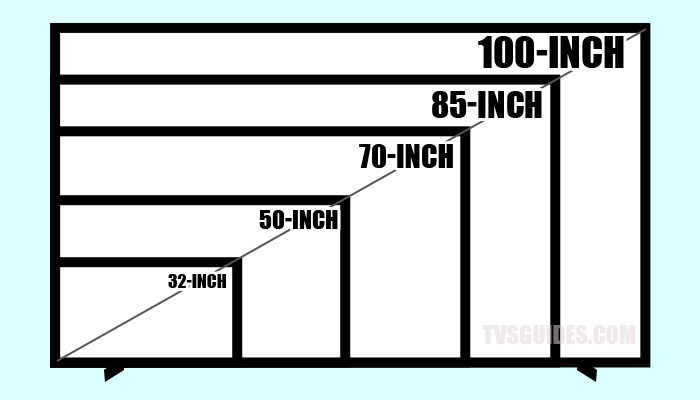 Most who purchase these larger-than-life TVs find the entire viewing experience thrilling and almost lifelike. Streaming high-definition content with wider angles is a bonus, alongside the sharper resolution and detailed visuals. From almost any spot in your living room, there is a consistent picture quality to the 100 inches, as well as the ability to connect to a variety of external devices.
A Guide to Your 100-inch TV and Its Essential Uses
First off, congratulations on adding such a large entertainment value to your home, bravo! Second, deciding how to use your new 100-inch TV may result in carving out specific time modules for various family members, especially if there's a discrepancy in the generations involved. Watching TV tends to always result in some sort of feud.
The Benefits of Your 100-inch TV
Following are some of the major advantages to owning a large TV and enjoying the experience:
Picture quality is ultimate
Color, contrast, detail, and sound enhancement
Smart features are snappy and intuitive
Advanced technologies inside and out
Home theater options
PC gaming options
The Dimension Specifics
When considering how large this 100-inch TV is for your family and environment, it's wise to think about where you're going to place it for the best viewing purposes. So far, the dimensions of your TV all depend on what brand and model works well for your home. There are numerous options by the more famous names, such as Sony, Samsung, and LG, however, given each brand, are you going to purchase a stand with the TV or have it sit on a table?
These are all the options to mull over prior to purchase and when doing your research. The typical dimensions of this TV are a 48.9-inch height coupled with 87-inch width. Given these factors, knowing where to sit for optimal viewing is next.
You'll want to measure the size of your screen diagonally, then divide that number by 0.84 to obtain the estimated viewing distance. For example, a 100 inches TV screen from such calculation will yield 119, which means it requires a perfect viewing distance of 119 inches or 3m from the screen. Therefore, place your chairs and couch within these dimensions so as not to hurt your vision.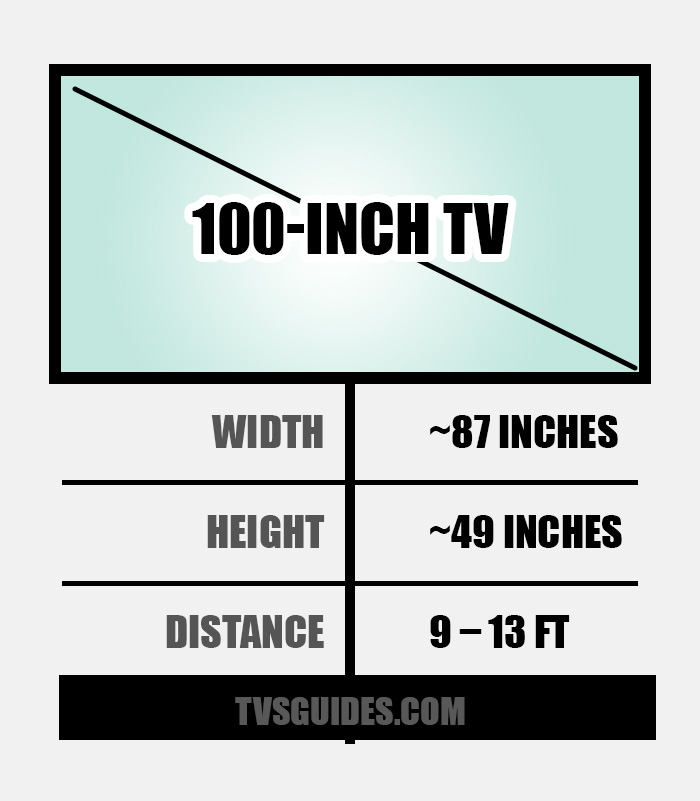 Remember, there's no need to wall mount it as the stands and framework alone that accompany the 100-inch TV are adequate enough for support. Unless you have a very sturdy wall with extremely topnotch ways to place it against the surface, choose to leave the TV on its floor stand or on a solid table.
The Centerpiece of Your Viewing Area
Now that you have a general idea of how large this TV is once you buy it, how will you accommodate the sleek style and 4K HDR support or 8K that's built into almost every brand? If you have young children who are into gaming, plan to place the TV in a separate room where the kids can have space to play, use the remote and other intricate pieces that go along with the PC-gaming device, and plenty of cushions where they can land after their energy has been expended.
There is a particular Sony brand that runs Android TV with Google Cast support for moving videos from your phone. Also, with this other gear involved, a smooth-looking stand is large enough to hide any cords coming from other devices that appear messy. Think about it–you can enjoy fitness videos, YouTube Music, or snippets of shows you've missed in prime time, or even catch the latest newsreel update–all in the comfort of your somewhat home theater setting.
In a Nutshell
Making the jump from a normal-sized TV to a whopping 100-inch model takes some planning and research. You want to ensure that you have adequate space, the proper electronic setup and outlets, the right furniture to keep your entertainment room from appearing too crowded, and enough cash on hand to purchase this product. It's a big switch from your average viewing, however, the rewards far outweigh the negatives.
A 100-inch TV is a beautiful addition to your home, and if you're one who enjoys sitting back and reveling in the perfect color, captivating imagery, and sensational details of your favorite movie or show, this is the size to buy. Your family will appreciate the sleekness and perhaps never feel the need to purchase a movie theater ticket again.