The opportunity to go out shopping for cables can make you super confident. However, getting the exact lines that suit your needs can be quite a daunting task. Luckily, we got you sorted, do not be discouraged as we are highly optimistic as we introduce RCA cables to you. Regardless of the nature of your business, either audio or video, RCA cables got you covered. Read on as we tell you more:
What is an RCA Cable?
This is a plug that has three distinct colors. Its primary use is the transfer of both video and audio signals within a device. The abbreviation for the cables stands for Radio Corporation of America. Usually, this plug connects with three separate outputs placed at the back of either a TV, radio, DVD player or projector.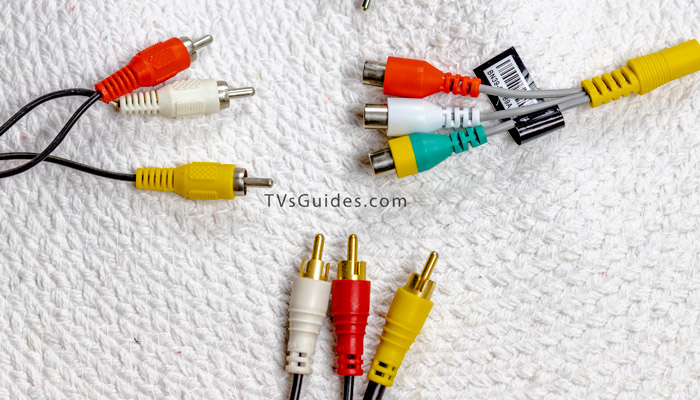 The RCA's first use was during the 1940s. Its primary purpose was connecting phonographs to amplifiers. Thousands of home users liked how it functioned. This later one propelled its popularity from the '50s to date.
How to Easily Identify RCA Cables
RCA cables come in three distinct colors of red, yellow, and white. These cables use phone connectors called RCA jacks or CINCH/AV. The plugs are primarily used to emit video and audio signals in an appliance.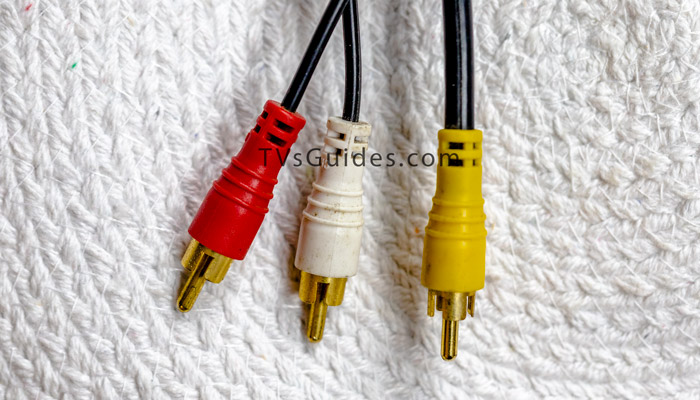 RCA cables split data into different streams depending on the type of signal. The cables then transmit the data to a specific jack.
In essence, the RCA allocates a cable for video display, one for the left-speaker audio and the other for right-speaker audio. Despite this system offering high-quality video and sound, you need to be keen on the setup. This is because a lousy structure will lead to low sound and poor video quality due to the entanglement of cables.
RCA Cables Color Scheme
Due to the involvement of various cables used in connecting, the RCA comes in several colors for aiding purposes. The most common RCA cable colors are red, yellow, and white.
The color scheme on RCAs is because most home appliances have three standard audio and video ports. Two of them are for the left and right audio analogs and one for composite analog video.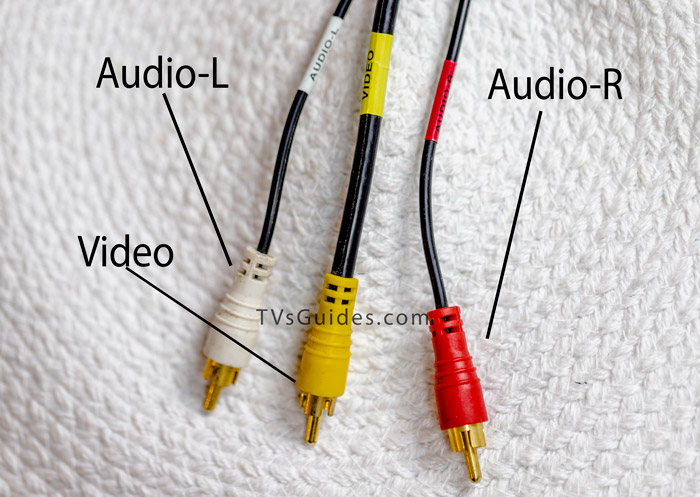 In the color code, red and white indicates audio to the right and left parts of the appliance in use.
What RCA Ports Look Like
These ports are composed of tiny, round holes covered in a metal case. They come in different colors for indication and guidance purposes. Most of the time, you will find a device that has a color panel. This only indicates where a particular RCA jack fits and on which specific RCA port.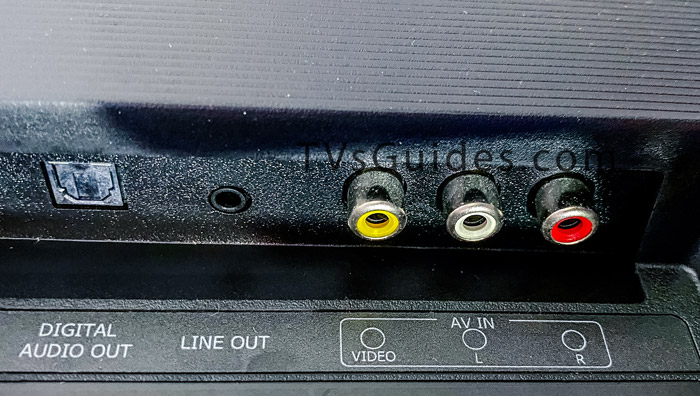 Uses of RCA Cables
Although an HDMI cable is a more advanced way to link appliances, the RCA cable still has plenty of uses.
The RCA can connect appliances such as camcorders to TVs or even connecting stereos to speakers. Some of the most expensive camcorders mostly contain the three RCA jacks. This leads to the wave rolling in or out to be transmitted into three different ways. The routes include one video and two audios. This leads to an excellent transfer.
Low-priced camcorders mainly comprise a single jack, called a stereo jack. This jack mainly combines the three channels. This type of combination results in low-quality transfer due to compressed signals.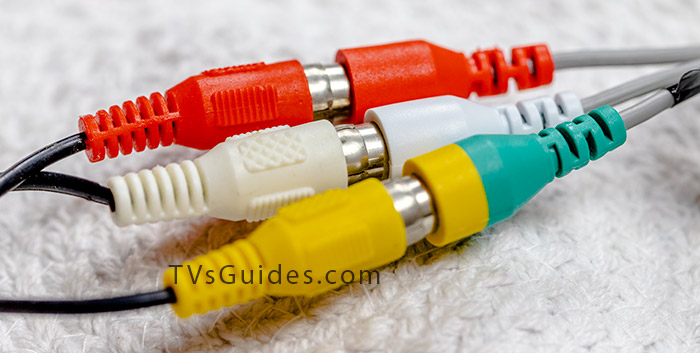 Since RCA cables only transmit analog signals, they do not directly plug into a computer or any digital device whatsoever. However, RCAs come in handy when connecting an amplifier to any gadget.
Several factors may affect the quality, performance, and price of the RCA cables. Some of these factors may include:
Material used
Connectors on RCAs are frequently made of gold, silver, or copper. The gold plated is usually the most expensive. Despite this, gold is superior to copper and silver connectors due to its ability to prevent oxidation.
However, silver conductors have the highest conductivity while copper comes in second and gold last. Other materials include zinc, nickel, and tin.
Length
The cable length may affect the quality of the signal. For high quality, always purchase a cable that is long enough for a better experience.
Shielding
Shielding of the cables plays a significant factor in its performance. This is because a cable that has proper shielding always offers a better signal than the one without.
Matching ends
It is always advisable to have the same types of materials at the end of the cable connectors. Never match tin and gold or even silver and gold. Poor combinations may lead to electrolysis hence damaging your device.
Types of RCA Cables
When using RCA cables, it is always advisable to fully comprehend the varieties available and effectively utilize them. The cable varieties are necessary, especially when connecting devices for video and audio transmissions.
There are two types of RCA cables i.e.
1. Composite video RCA cable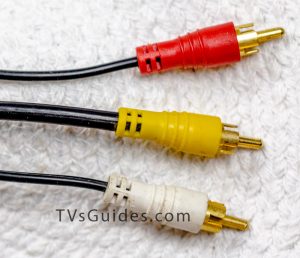 This represents an analog means of transmitting videos. It only channels its entire video data in a single signal. Unfortunately, the signals are of low quality. This is because analog video embodies three different signals, and when combined, the quality becomes poor.
RCA cable brands are distinct due to their different color combinations. The colors are mainly red, white, or black.
The cables are used for the left and right audio channels. The yellow color denotes the composite video.
This composite video has a 480i NTSC/576i PAL signal.
2. Component RCA cable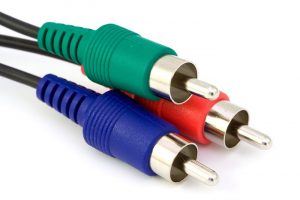 This cable is composed of red, blue, and green colored video lines. At times you can get it in red, black, or white audio cables. This is mainly for distinguishing purposes only.
Component RCA cables are of better quality compared to the composite RCAs. They are also proportionate to HD TV. In essence, these cable brands contain a better resolution capacity than most other cables. The capacity involves a 480p, 576p, 720p, and a 1080p quality.
Converting RCA to HDMI
There are so many different types of connectors for both audio and video appliances. However, all of them fall into two categories: analog and digital. The old electronics use analog signals, whereas the more recent ones use digital. Both the analog and digital have varying types of connectors.
This ensures that everything works perfectly. A perfect example is the home theatre. In this system, the analog signals usually use one connector from the two different connectors: component or composite.
The composite usually has one yellow connector used for video display and the red and white for sound. On the other hand, component RCA cables use both red and white audio connectors, but they split the video into three parts: one is used for brightness, while the other two are for color.
Many HDTVs use HDMI cables that use digital signals. Digital signals have a better quality sound, high resolution, and a superior color compared to analog signals. However, this should not be a reason to purchase new devices for you to enjoy better picture quality and a much better sound.
All you need to do is simply use inexpensive converters. This can be the composite to HDMI converter or Component to HDMI converter whereby you can easily convert signals from your analog system to function well with your HDMI TV.
Most of the converters have the ability to upscale resolutions from 720p to a full 1080p HD.
Analog appliances
A converter is required for any video source that uses composite or component video to function well with an HDMI TV. The most common devices that use analog signals include:
Projectors.
DVD systems.
Old generation gaming consoles.
Video security systems.
Cameras.
Video cameras.
Make it a habit to check your connection ports. This results in a more comfortable and faster picking of the right converter that works well with your gadget.
The RCA composite ports are colored yellow, red, and white.
Component ports have green, blue and red colors—most of the time the red is used for video, whereas red and white are for sound.
Lastly, HDMI has a single 19-pin port connector.
Before deciding to buy a converter, you need to always check on certain key factors. First of all, examine the converter's experience, the quality of sound, and resolution. All converters come with a maximum resolution.
However, choosing one with a maximum resolution of 1080p is always the best decision.
Conclusion
As we have seen in the article, RCAs still come in handy despite being in service for more than five decades. One needs to know their appliance well before deciding to buy the right cable that perfectly matches their needs.