Are you looking at buying a new TV and/or accessories this Black Friday or Cyber Monday? It can be hectic if you don't have prior planning. This year, follow our guide to save yourself time and any frustration through the madness of the saling season.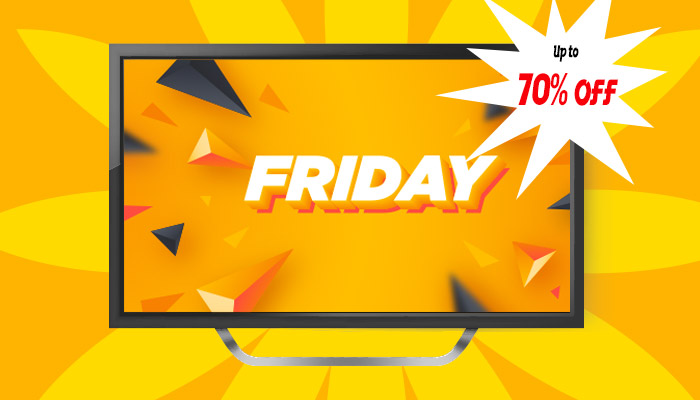 What to buy?
First and foremost, ask yourself what do you want? A large centerpiece TV vs. a projector with a giant wall screen? Maybe it's a smaller TV to fit in that corner of your kitchen, bedroom, guest room, etc. Have an exact idea of what you want will save lots of work and running trips store-to-store to compare for the best.
If it's a TV that you want, determining the size range, must-have features, and your budget allowance. We're always looking at the best deal available here, so have some room for flexibility would be easier.
Decision: Traditional local big boxes vs Online Shopping from home?
Think about this, will you be ok with getting in lines for ~ 2 to 4 hours for a TV or do you prefer the safety comfort of shopping from home? This is crucial here, especially if you're living in colder areas, where most are having snow, winter breeze, and people with flu/cold/cough who're also shopping as you.
A week or two before Black Friday/Cyber Monday events start, most of the local big box stores would release their Black Friday/Cyber Monday ads if they're joining the events. Amazon and eBay, on the other hand, often keep some of their best deals until almost the last minutes and only release some hot items to the online community.
Another note is that though it was called Black Friday sales, most local stores are actually having their sales open on Thanksgiving day, which often conflicts if you're having Thanksgiving lunches/dinners. So if you're planning to go shopping right on Black Friday, most if not all of the hot items would be sold out. Yes, it's that crazy.
Then there are the issues of who're watching the children if you're having kids, bringing them with you often mean loss of sanity, unexpected expense,.. those little petty things might drive you nuts. So if you have kids, leave them home with a caretaker would be better, definitely.
Anyhow, look through all the sale ads to have general ideas of what will be on sale and how much discount they are. Don't forget to compare their supposedly-discount-price to the regulars, as sometimes you would end up with a same-price-but-less-features-model or price-up-then-mark-down situation. Avoid this at all cost, talk to yourself, you could buy an item at a different period for the same/similar price (with coupon/cash-back/special offers running year-round).
From these ads, jog down what looks promising, then determine yourself, will the discount differences worth all your time and trouble at the Store vs. Online. Depend on your situation (budget, convenience, time, etc.) pick an option that works best for you.
Online Shopping from Black Friday through Cyber Monday
If you've picked to enjoy the relax, safety, and comfort of online shopping at home for this season, congrats. This option has been growing its popularity over the years due to convenience, still, there are things you should prepare and watch out for to maximize your time & effort.
Buying TV online on Black Friday and Cyber Monday can be as fast and safe too. The two big dominators you might find yourself scouring back-n-forward are Amazon and eBay, which both offer great shipping options(w/ fast, free shipping & returning) and Buyer Protection within certain time frames. Other stores like Bestbuy, Walmart, Kohl are also running ads for their online stores as well.
Amazon often ran Black Friday and Cyber Monday deals through several duration: before, during, and after events. Typically, you can expect Amazon's signature devices like Kindle, Fire Tablet, Fire TV sticks…at up to 40% OFF. Then there're saving on numerous items ranging from TV, HDMI cable, antenna, Blue-ray player, Speakers, etc… So nearby the event, make sure to check the Amazon Black Friday/Cyber Monday deals page to see all the active, upcoming, or even missed deals to have a clear picture.
eBay is also running special deals every Friday and dedicate an area for Black Friday saving deals as well. You can find almost any special TV deals with features like UHD, 4k, smart TV, QLED… Other entertainment accessories like headphones, home speakers, and others are running at amazing prices and will be shipped to your house Free in 2-3 days. Sweet right, check out some of the most notable deals from eBay for Black Friday & Cyber Monday:
Stilling considering? Well, you better act quick, as the clock is ticking toward 'tis season.