Selecting the appropriate TV size for your house rest on two essential features: the house's size and your budget. While the budget is a decisive aspect, the TV size needs to be based on how far you'll sit from it as well as how immersive you need the watching experience to be.
Viewing Distance vs. Screen Size
The current Ultra-HD TVs provide more precision. With this, you can sit much closer to the TV than ever before without observing the pixels. Nonetheless, sitting too close to a TV leads to eye strains.
While it comes down to your individual preference, there's a quick formula that offers an incredible starting point. Here is how the formula works:
The ideal size of TV = Viewing distance in inches / 2
For instance, if you ordinarily sit 5 feet away from the TV, which is 60 inches (5 feet X 12 inches), a 32-inch TV is undoubtedly ideal for you. By dividing the viewing distance by two, we get 30, which is close to a 32.
Another example, a 40-inch HDTV may be ideal if you sit around 7 feet away from the TV. Generally, 7 feet is equivalent to 84- inches (7X12). When you divide 84 by 2, you get 42, which is close to a 40-inch.
On the other hand, with 4k TV, the ideal size is roughly 1 to 1.5 subdivision of the viewing distance. Thus, as the examples above, a 4k 40″ TV should be viewed roughly 3.3 ft to 5 ft away.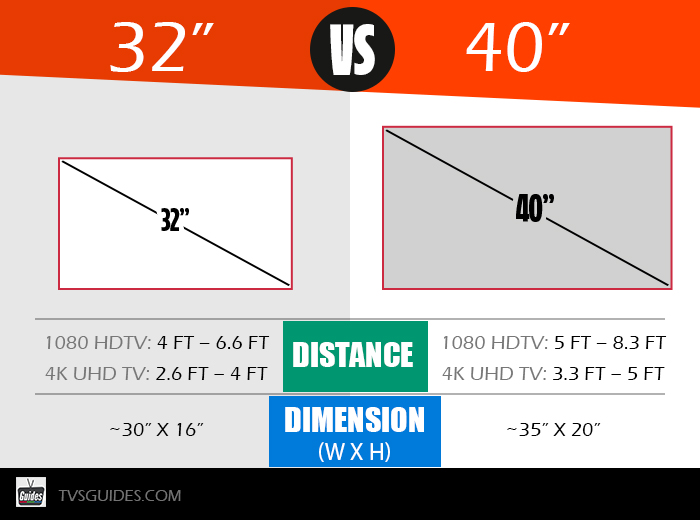 TV Sizes for Packed Rooms
It's the night of the NBA finals; you walk into the TV room and find your friend or sibling sitting in 'your favorite spot.' It can be a huge problem when there are limited watching spaces in front of the TV than the persons inside the room.
Here are crucial tips for ensuring that everybody has an incredible view, even in the packed rooms:
For a full room, make sure you opt for a 40-inch TV, especially if you are seated over 6 feet from the screen.
Remember that the appropriate distance may also vary based on whether the TV is placed on a TV stand or mounted on a wall.
Screen Size Vs. Resolution
So, what is the perfect TV screen size? To a specific degree, the TV size you opt to buy comes down to your personal preference. As the worldwide market moves to 4K technology, it's notable that TV producers have significantly scaled down the production of HD (High Definition) TVs.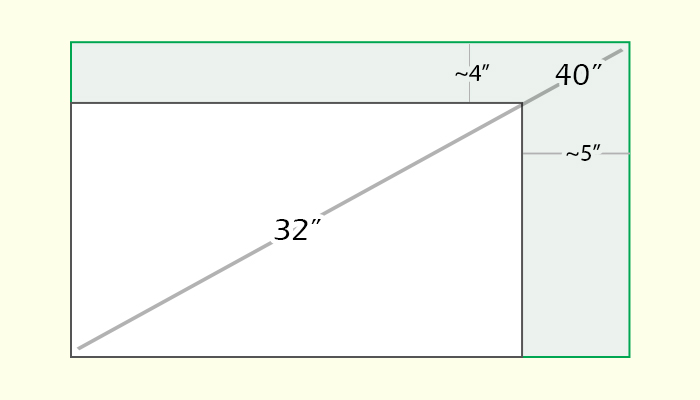 Keeping this in mind, the HD resolutions are primarily reserved for the smaller TV sizes like the 32-inches. A couple of years ago, a 32-inch TV could be seen as a colossal gadget.
Nowadays, 32-inch TVs are marketed as perfect for studies, bathrooms, and even kitchens. So, if that is the type of location you are acquiring a TV for, then it is merely a matter of selecting a TV size that effortlessly fits into the small rooms.
On the other hand, if you are looking for a TV for your main living room, then it would be beneficial to think about the substantial screen sizes plus other incredible factors. As mentioned earlier, you need to think about your budget first as it optimally determines the resolution and TV size.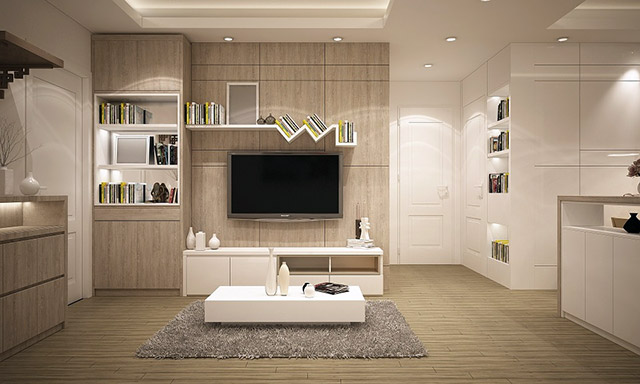 If you're on a restricted budget or have a relatively small living room, then you need to choose a 32-inch Tv from the available HD TV models. However, remember that the lower the screen resolution, the far away you need to sit to make sure that that you see the individual pixels.
Although hardly available in the market, you'll find 720 HD TVs that offer 1024 X 768 pixels, 1366 X 768 pixels, or even 1280 X 720 pixels.
A TV that comes with a 1080p resolution is often referred to as a Full HD TV and provides 1920 X 1080 pixels. Generally, this type of resolution is ideal for video game consoles, internet streaming services, watching Blu-ray discs, HD terrestrial, as well as satellite or cable broadcasts.
The 4K Ultra HD TVs, the quickest growing category, offers an excellent resolution that enables you to sit close to the TV and still get a crisp, lovely image. Usually, a 4K UHD is 3840 X 2160 pixels. As you can see, this type of resolution is 4 X that of a Full HD.
TV Stand Size
It's quite impossible to complete this review without considering the TV's attached stand. If you're not planning to mount your TV on the wall, the TV size plays a huge role in determining the space it takes on the console table. In fact, the available TVs in the market incorporates 'feet' at the base.
Thus, you have to make sure that the stand you plan to place the TV on is broad enough to accommodate it. Here, you will have to be cautious.
Regularly, some users think that it is secure to allow the corners overhang. Well, this is not always the case since the corners are mainly designed to rest on the flat surface. Thus, make sure that the TV flawlessly fits on the TV stand to avoid accidental falls.
Your Personal Preference
As might be expected, the above are simple guidelines rather than fast and hard rules. Remember, there is no wrong or right answer. As a matter of fact, keeping in mind that the TV producers and the companies involved cannot come to a conclusion on a single approach, it becomes essential than ever before to depend on a couple of criteria.
Therefore, when planning on the perfect TV size to purchase, think about your budget and select the resolution that is ideal for you. With all things considered, it would be beneficial to opt for a 4K Ultra HD to acquire all the advantages and be ready for the futuristic world.
Moreover, carefully examine your room, select the ideal location to place the new TV, and finally work out the perfect viewing distance.
With this, you can then use the formula described above to assess the ideal TV screen size for your room. Next, after getting a rough idea about the perfect TV screen size, you need to affirm that it suits your personal preference, your room, and check with the other family members as well.
Assuming every person is happy, you can start shopping for a TV that provides the ideal screen size for your requirements and suits your budgeted price, too.