There are a number of reasons to connect your TV to an external audio system. You might want a surround sound experience for your media, or you might just feel that the speakers built into your TV aren't cutting it. Whatever the case, here are eight ways you can connect your television to an external audio system with the least amount of hassle possible.
1. Optical Digital Cable
You can connect your audio system directly to your TV's digital optical output. All you require is a digital optical cable—the same kind used for DVDs, DVRs, and some surround-sound systems. If you have multiple devices you'd like to connect, just make sure that all of them support digital audio and use optical cables for sound.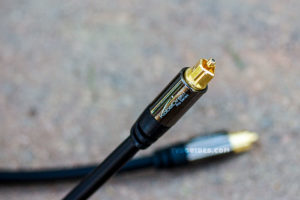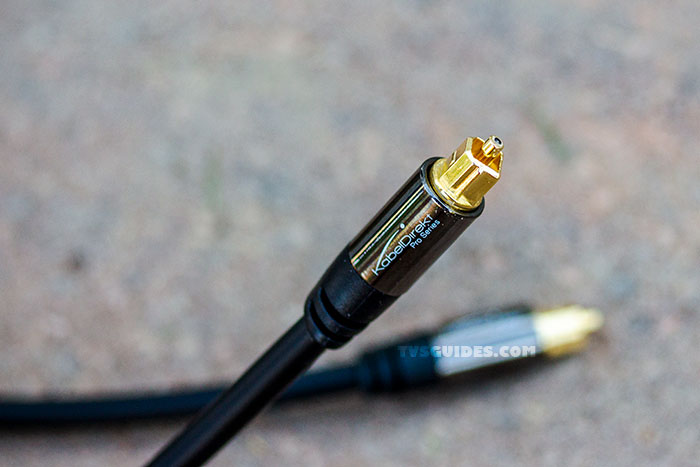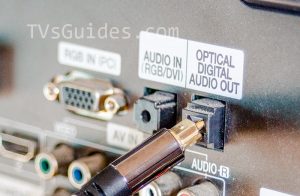 A set of fiber-optic wires is what makes up optical digital cables. This cable transmits data using pulses of light, similar to how an HDMI cable does, except that it can also transfer audio signals. You can use optical digital cables with any device that has both HDMI and optical inputs. The best part is that you don't need another set of speakers because it works in conjunction with your speakers.
2. Auxiliary Cable
This technology allows you to stream audio from any compatible device wirelessly. All you need is a compatible transmitter (the small box that plugs into your device) and receiver (which plugs into your home theater). If your external speaker system doesn't have Bluetooth, just plug in an adapter (sold separately) between it and your TV.
3. Bluetooth
The main benefit of connecting wirelessly is that you don't have to use cables, which gives you more flexibility in where you put speakers and other equipment. Bluetooth also doesn't require any additional hardware or software. However, it does have limitations:
Generally lower sound quality than wired connections.
Limited distance between connected devices.
Compatibility issues with older devices that may not be well-suited for wireless connections.
Still, the easiest way to get better sound from your television is via Bluetooth.
4. AirPlay
Newer TVs often come with Wi-Fi connectivity, which allows you to access apps such as Netflix and Hulu on your TV. To get audio from your TV through a home theater system, though, you'll likely need more than just Wi-Fi; you may also need to connect your home theater receiver or soundbar via HDMI or optical cable. If your current setup is connected via cable already, there's no need for additional wiring.
5. Wi-Fi Network Connection
You can get sound to your external audio system over Wi-Fi, which is great if you're streaming music, watching videos, or playing video games from your smartphone. To set up Wi-Fi on your television, connect it directly to your router or modem via Ethernet cable. Then, follow these steps: Go into your TV settings and choose network settings. Next, choose add device (or something similar) and enter the information provided by your Wi-Fi network provider.
6. 3.5mm Analog
One of the oldest ways to connect audio from your TV to an external sound system is through a 3.5mm analog cable. You'll need two 3.5mm male-to-male cables from your TV and one from your audio receiver or speakers.
It's a balanced line — that means that there is a positive and negative signal line for audio
You need to terminate the line on both ends to prevent electrical signals from traveling back to the mixer or the microphone
If you're using a TRS (stereo) plug, you'll need two cables
If you're using a TRRS (stereo with mic) plug, you'll need three cables
You can connect analog audio devices, like speakers and headphones, to your television with 3.5mm cables. Your best bet is to use 3.5mm (or 1/8-inch) connectors on both ends of your cables. Most DVD players have audio outputs that use 3.5mm jacks; older TVs may require you to use composite video and stereo RCA connectors instead.
7. RCA
Most televisions have these red and white plugs for output, which gives you two options: One, plug in your favorite headphones; or two if you have a red and white cord lying around (or can find one at Radio Shack), plug it into your television's output jacks and connect it to your home theater system. You can also use red-and-white cables as audio inputs—just plug them into your TV's inputs and then connect them to your speakers.
8. HDMI-ARC
If your television has an HDMI input that supports an audio return channel (ARC), simply connecting it to a sound system with an HDMI cable will enable you to play sound through your sound system's speakers while watching content on your television. Some televisions even include built-in WiFi for streaming audio from sources like Netflix and Pandora directly into their speakers. Just make sure that your audio and video equipment stays plugged into power so they don't burn out during use.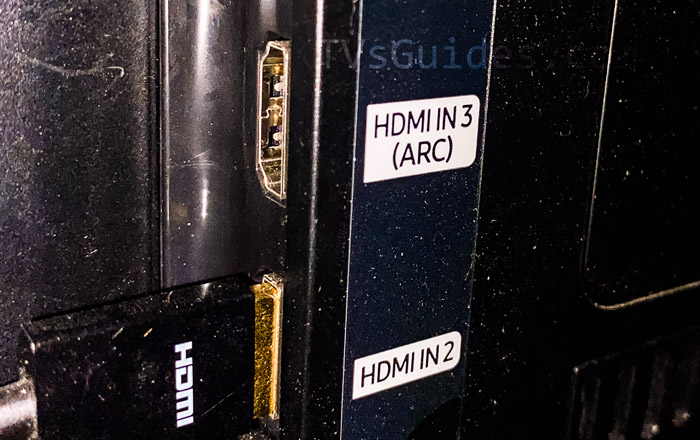 HDMI-ARC (Audio Return Channel) is a feature that allows your audio equipment to send audio to your TV through the same HDMI cable used to send video
The ARC feature in the HDMI standard is officially known as HDMI-CEC
ARC is better than using an optical audio cable because it saves the cost of the extra cable, and you won't have the extra wire running back to the TV
What it is not. HDMI-ARC is not a regular HDMI cable; it is not an audio cable and does not transmit video signals. So why do you need one? You need an HDMI-ARC cable if you have an AV receiver and a TV, and you want to listen to the audio of the TV through the speakers of your AV receiver.
Conclusion
Hooking up your TV to an external audio system is not very difficult, but it can seem overwhelming at first. Remember that you don't have to do it all at once; you can start with one of these methods and then change it up later if you need or want to. If anything in here seems confusing, call in a professional—they'll know exactly what you need and how much it will cost.