Finding the right TV for a bedroom can be harder than finding the right TV for your living room. In the living room, you might simply look for the biggest TV, but in the bedroom your needs are different. In this article, we'll take a look at some ways you can make sure you're getting the right TV for your bedroom.
Find the Perfect Size
It's important to make sure you have the right size TV in your bedroom. A TV that's too big not only looks out of place in a bedroom, it can also be a big distraction when you're trying to sleep. Unless you plan on using your bedroom as your primary TV watching spot, go for a smaller TV in the bedroom.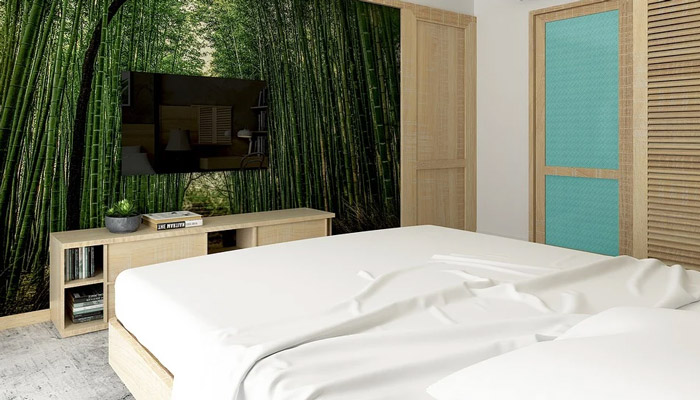 With the constantly falling prices of TVs, you can get a decent-sized TV for your bedroom without breaking the bank. But it's important to look for a TV that won't be too big or overwhelming in the bedroom. Stick with something between 32 and 40 inches for the best value and size.
Consider Quality
While many people are starting to buy Ultra HD or 4K TVs for their living rooms, consider whether this kind of high-end TV is necessary in your bedroom. If you have the money to spare and really enjoy the better picture quality, you can certainly get an Ultra HD TV for your bedroom. However, if your bedroom TV is not going to be your primary TV you can skip on this feature.
Think About Placement
Where you plan on putting your new TV in your bedroom determines a lot about the kind of TV you'll buy. It's common to have a TV in the middle of your living room as a focal point, but in the bedroom you may want to keep your TV out of the way. Many people choose to put their bedroom TV in a corner where it doesn't draw quite as much attention.
Another great option is to put your bedroom TV in an armoire or cabinet with doors. This allows you to keep the TV in the center of the room, but you can easily close the doors when it's not in use.
If you choose to put your TV in a corner or tuck it away in an armoire, be sure to measure your space before selecting a TV. Remember that TV sizes typically refer to the length of the TV measured diagonally across the screen, so a 40 inch TV is actually about 35 inches wide.
Keep all these factors in mind when searching for the right TV for your bedroom, and you'll find the perfect TV in no time.