If you want to wall mount your TV, one of the most important things you'll need to do is find a stud in your wall. Studs are vertical supports in the wall that help to support the structure of your building. Studs are typically placed 16 to 24 inches apart, and in between each stud is drywall that makes up the rest of your wall.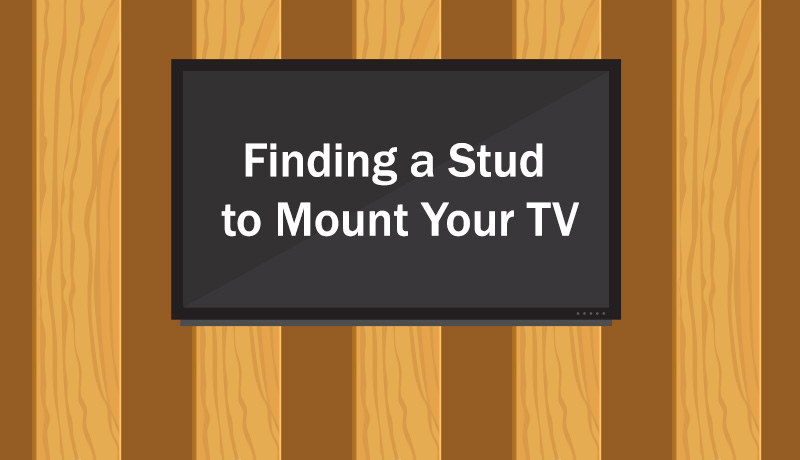 Why do you need a stud to mount your TV? Studs are sturdier, and when you secure your wall mount into a stud, it's less likely to fall. When attached to a stud, the wall mount can securely hold the weight of even a very big TV. So before you start mounting your TV, use one of these methods to find a stud.
Method One: Use a Stud Finder
This is the easiest way to find studs in your walls. A stud finder is a small, hand-held machine that tests the density of your walls to find where the studs are located. You simply slide the machine along the wall and when it finds a stud, it will beep or light up.
Stud finders are inexpensive—they cost about $10. However, they're not perfect. Stud finders can sometimes be frustrating, not beeping at all when there's a stud or beeping when there's no stud to be found. Not to mention, not everybody wants to buy a stud finder if they're not going to use it much.
Method Two: Look for Visual Clues
There are a few ways you can sometimes find a stud just by looking. Using visual clues and a little knowledge about studs and home construction, you can find one stud. Once you've done this, simple measure 16-24 inches from the center of that stud to the center of the next stud.
One visually method is to find imperfections, or raised or sunken areas, that run vertically along walls—this usually indicates the fastener on a stud, which is right in the center of the stud. You can also use windows to help. Most windows will have a stud on either side, since there are none along the space above or below the windows. Finally, check the trim along the top or bottom of the walls. Trim is secured to the walls with nails, and builders will typically place these nails where a stud is. You may have to look closely, as these nails are usually painted over or covered up.
Method Three: Tap the Walls
If you don't have any luck looking for studs, you can always listen for them. Start tapping the wall with your knuckles or the end of a hammer (Be careful using a hammer, as you might damage your walls.) Most of the wall will sound a bit hollow. However, when you tap the wall where a stud is located, it will sound fuller and denser thanks to the stud.
These three methods can help you find a stud to securely hang your TV wall mount. Remember, if you wall mount your TV without first finding a stud, you run the risk of your expensive new TV crashing to the floor.