Playing music through speakers that are either too big or too small for a room is a common mistake most people make. No matter what type of speakers you choose, it should perfectly blend in with the size of the room.
A small speaker in a medium or large sized room will produce a sound that is washed out or hollow with distortions. And large speakers in a small room will limit the best use of the speakers and is not a good option either.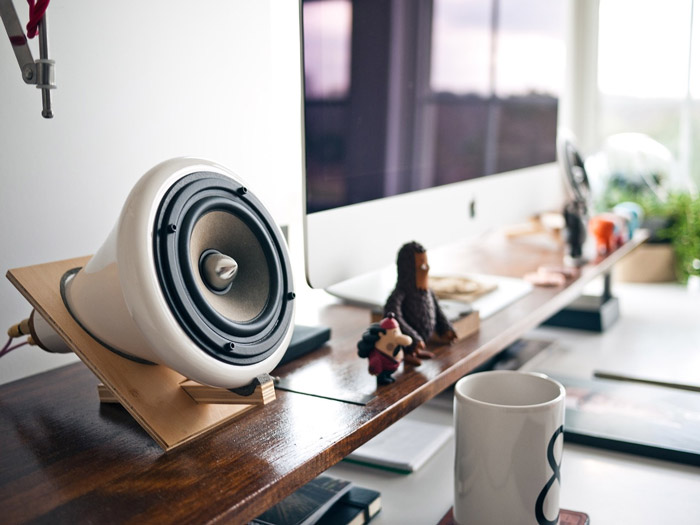 Deciding on the perfect speakers for your small room or dorm could be a little time taking, but it will be worth the pain. Mentioned below are a few factors that one should consider when choosing speakers for a small room or dorm.
1. Dimensions of the room
A loudspeaker is only as good as the room. It is essential to know the room's dimensions in order to choose the right speakers. For small rooms, it is advisable to go for speakers with smaller outputs for good listening experience. Large speakers in a small room are a big disadvantage since you will have to turn down the volume for good performance.
2. Available space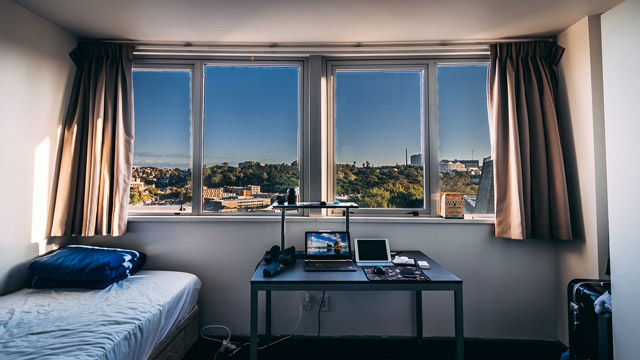 A small room may have space constraints, and hence using tower speakers or floor-standing speakers won't be the best option. One should remember that "the size of the speakers do not affect the quality of sound produced." Book-shelf, on-wall or wall-mounted speakers, ceiling speakers, satellite speakers are the best choices since they take up little or no space.
3. Contents and materials in the room
Large smooth surfaces like walls and floors or even large furniture reflect off a sound. This affects the audio quality of the speakers. It could also cause a lot of echoing in the room. Things such as carpets, rugs, curtains, and cushions are known to absorb sound, and so more of these things should be added in the room.
4. Listening position
The place where you hear the best quality sound is between the speakers. Some speakers need to be kept at a certain distance for an optimal sound experience. So for small rooms, choose speakers that do not need the listener to be far away from the speakers.
The distance of the speaker from the wall is also an important factor, as the sound may bounce off the wall and produces an echo. Speakers are usually placed one meter away from reflective surfaces such as walls, furniture and so on. However, different manufacturers might have different recommendations.
5. Usage
Do you want to only listen to music? Or watch movies too? If only music, then what is your taste in music? If you listen to a lot of hip-hop, then you might want to buy speakers that have good bass. You can even combine a subwoofer to add better sound. If it is for movies or watching TV, then a soundbar with a subwoofer would be a great choice.
6. Volume factor
One important consideration is how loud you like your sound to be. For small rooms or dorm, you might prefer lower volumes than usual. You should look for speakers that sound good even in lower volumes. A well-designed speaker will sound good in both high and low volumes.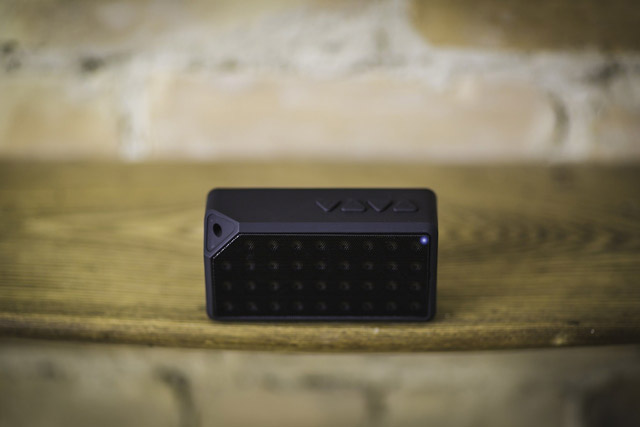 7. Sensitivity rating
This specification is given on the speakers, and it tells us how loud a speaker can play per watt. A speaker with higher sensitivity will require less amplifier power to produce loud volume. It is vice versa for lower sensitivity.
A rating of more than 90 decibels is regarded as excellent and 87-89 as average, while below 87 is considered inefficient. For small rooms, choosing speakers with average sensitivity rating is good enough.
8. Impedance
Impedance is measured in ohms, and it is the resistance of the speakers to the current being applied to it. Lower the impedance, larger is the flow of current and vice-versa. Most speakers are 8 ohms that can be handled by an amplifier. It is safe to choose speakers with neither high nor low impedance, but in the optimum range, that is, 6-8 ohms.
9. Finding the right ensemble
While putting together a sound system, it is critical in finding the right components to match together. Speakers should be paired with amplifiers and receivers that deliver the correct amount of power.
10. Frequency range
The frequency of a speaker is a measurement of how high and low it can play. It indicates the wide selection of sounds the speakers can produce and is measured in Hertz. Any speaker that reaches 50Hz or lower is considered good.  The speaker's frequency balance, that is, it's overall tonal neutrality should be maintained.
11. Frequency response
The human ear can hear between 20-20,000Hz; hence the frequency response should be between this range. For small rooms, it is advisable to go for "restricted frequency response loudspeakers." These loudspeakers have a  frequency range between 45-20,000Hz, and they are smaller in size. They are also known as bookshelf speakers.
12. Speakers in a cabinet
It is a good idea to place the speakers in an entertainment cabinet in case of small rooms or dorms since it does not take up any space. However, care should be taken in choosing small size book-shelf speakers that stop playing bass at around 80Hz. Otherwise, the thumping sound due to the bass will produce unwanted noises.
13. Room usage
If the room is frequently visited by small kids or pets, then it is advisable to choose wall-mounted or in-wall, ceiling speakers and so on.
Small rooms or dorms are compact spaces that can easily enhance the sound or distort it. Much attention should be given to every aspect while choosing the right speakers for your room. There should be no compromise in taking some time out to decide on speakers which best suits your space. One important thing to remember is that the size of the speakers does not guarantee a rich listening experience.